Review: La traviata (Glyndebourne)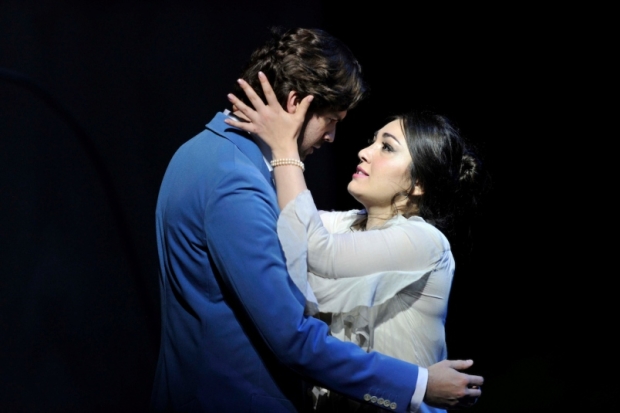 When Glyndebourne unveiled this La traviata in 2014 with a cast to die for (Gimadieva, Fabiano, Christoyannis), my reservations concerned a visual interpretation by Tom Cairns and designer Hildegard Bechtler that seemed excessively dark and cramped. Now, three years on and in its first main festival revival, those misgivings remain. Except in one respect.
Cairns's final act is a triumph of chiaroscuro that almost justifies the expressionistic moodiness of what has gone before. Peter Mumford's precise lighting (revived here by Keith Benson) catches physical angularities in ways that tell us all we need to know about the characters' state of mind. In the semi-darkness we recognise the professional helplessness of Henry Waddington's Doctor Grenvil and the anxiety that causes the servant Annina (Eliza Safjan) to vacillate between action and inaction. More than anything, we watch Kristina Mkhitaryan's magnificently sung Violetta languish into delirium and death. The closing moments are beautifully conceived and extraordinarily moving.
Earlier scenes, as before, are less successful. Cairns's contemporary take on Verdi's opera, complete with bucket seats and designer lamps, adds nothing to a story that remains locked in the 19th century. The two high, curved uprights that dominate the stage, one grey and one of quilted crimson, belong in an economy tour and leave a playing space that barely accommodates Jeremy Bines's magnificent Glyndebourne Chorus.
The rear projections have been significantly toned down, to the production's advantage, but neither of the opera's two society parties looks much fun and the drab visual vocabulary is a grind until it comes into its own at the last.
'Another triumph for Glyndebourne casting'
Much depends, then, on the music. The prospect of Richard Farnes conducting the London Philharmonic Orchestra in Verdi's rich score was always enticing, and they are predictably fine. Delicacy and restraint serve the action as orchestral detail underlines and illuminates the onstage moods. I've seldom heard better.
Mkhitaryan has a voice of silver snow and she sings Violetta with such pain and self-sacrificing purity you wonder why Germont père doesn't say 'Now I understand why my son loves you' rather earlier. The Russian soprano is yet another triumph for the Glyndebourne casting department.
Zach Borichevsky, her Alfredo, was afflicted by wayward intonation and a tired timbre on opening night, although matters improved as the dramatic angst set in. Baritone Igor Golovatenko, on the other hand, sang a magisterial Germont. The Russian's seductive authority and bright, even tone brought the opera's pivotal second scene to bristling life.
With notable turns by Rihab Chjaieb as Flora and William Dazeley as Baron Douphol, this is a reliable La traviata that should keep the Sussex Downs alive to the sound of cash registers throughout June. It returns in August when Joyce El-Khoury, Atalla Ayan and Dimitri Platanias take over as the main trio. A few return visits in the offing for that, I'll wager.
La traviata runs in repertory at the Glyndebourne Festival until 19 June, and again (with a different trio of principals and Andrés Orozco-Estrada conducting) from 1-27 August.