Review: La Calisto (Saffron Hall and tour)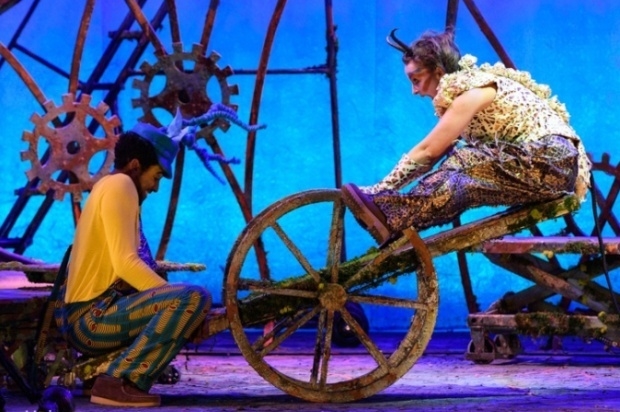 Cavalli's 17th-century satire pokes fun at the dignity of Roman gods and, by extension, at power-crazed leaders of every stripe. A plague on the lot of them, he seems to say. Let's send them up rotten.
There's no need to draw parallels with the state of the world in 2016; they stare you in the face.
Having trashed a recalcitrant Earth, Giove (Jupiter) lusts after a nymph, Calisto. He spots her amid the planet's charred foliage and, since when you're powerful you can do anything, he grabs her by the thicket. The better to insinuate himself into the girl's confidence he disguises himself as the goddess Diana and feigns innocence; but when his wife Giunone (Juno) finds out what he's up to, poor Calisto is caught in the crossfire.
To these bare bones Cavalli adds all kinds of flesh, from the bestial half-god Pane (Pan) to the far from celestial half-goat Satirino, plus retinues all round. It adds up to a zany opera that makes The Nose seem almost stately.
ETO has entered into La Calisto's subversive spirit with an unpretentious, trashy staging in which director Timothy Nelson's madcap enthusiasm overrides some elementary stagecraft. Nelson, who also conducts the Old Street Band in a sparklingly energised account of the score, chucks everything at the audience—old, new, borrowed, blue—and for every tired trick there are a couple more that are refreshingly original.
Within a post-apocalyptic environment of twisted metal and machine parts the designer Takis has scattered an assortment of rust-covered angle-poise lamps and miniature scissor-lifts. It looks a complete mess, as it should. There's a random playground slide for the odd god to use for an entrance—because why not.
'Katie Bray steals the show'
Most cast members are also appearing in either Xerxes or Ulysses' Homecoming, the companion works on ETO's long tour, and those who don't are covering roles in them, yet no one seems remotely jaded midway through the adventure. To hit such musical heights night after night, as these talented singers are doing, is impressive.
As in the Monteverdi, it's Katie Bray who steals the show. There's a strong suspicion that the young mezzo has been rehearsing in private to refine her performance (which of course is cheating), for how else to explain the delicious physical precision of her satyr's goatish horseplay? She is hilarious.
Then again, each of the opera's double-acts works a treat. George Humphreys and Nick Pritchard are a diverting pair as Giove and Mercurio, even if the latter's campery is a tad too 1970s for comfort, while Catherine Carby and Adrian Dwyer are celestial misfits as Diana and Linfea (imagine The Mikado's Katisha plus Hugh Laurie in drag). John Colyn-Gyeantey looks every inch a Pane, and Peter Brathwaite is fun if underemployed as his sidekick Silvano.
There are splendid turns, too, from the countertenor Tai Oney as Diana's own inamorato, Endimione—here an Einstein-ish astronomer—and from Susanna Fairbairn as a harridan of a Giunone. As for Calisto herself, she may flit through the opera without ever dominating the action, but Cavalli reserved his best music for her and Paula Sides revels in delivering it.
La Calisto tours to Snape, Buxton and Exeter until 23 November.