Review: Club Tropicana (New Wimbledon Theatre)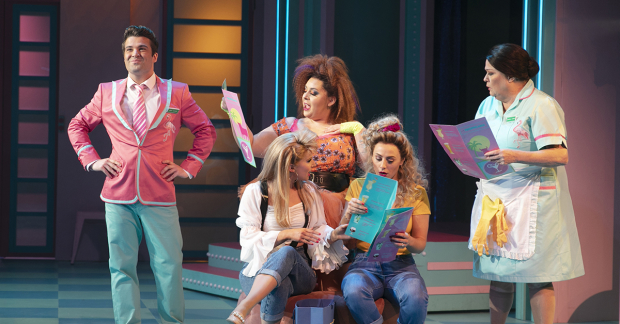 Though I wasn't born in the '80s, I certainly know the lyrics to most of the decade's catchiest songs which have made their way into Club Tropicana the Musical. Unfortunately, due to a refusal for permission from the George Michael estate, the title hit by Wham! is surprisingly absent.
Michael Gyngell's '80s jukebox musical tours the UK this year, and features a cast of names as bright as neon legwarmers. X Factor and Joseph star Joe McElderry and ex-Sugababe Amelle Berrabah are just two of the names heading up the cast of a show that's a cross between Mamma Mia! and Benidorm.
Set on a crumbling Spanish holiday resort, the show sees Garry (McElderry) and his staff prepare for a hotel inspection in order to be in with a chance of winning the Best Hotel of the Year prize, and hopefully beating their rival from across the bay. Meanwhile, after Lorraine (Karina Hind) leaves her fiancé Olly (Cellen Chugg Jones) at the aisle, the pair find themselves at the resort at the same time. It's a predictable plot punctured with predictable pop songs, but the cast give it some welly and really sell it to the audience.
The eclectic range of songs coupled with Nick Winston's energetic, shimmy-ridden choreography is just the tip of the wedding cake. "Take on Me" is transformed into a romantic duet whilst "The Lion Sleeps Tonight" becomes a vehicle for drunken flirtation. Toblerones are used as microphones, and Garry lists an array of outrageous cocktail names, such as a "Screaming Orgasm". As sweary Spanish housekeeper Consuela, Kate Robbins impersonates several '80s icons, from Dolly Parton and Cilla Black to Tina Turner and Margaret Thatcher for no particular reason at all. Every chance has been taken to reference the '80s throughout the show; it's as if someone wants to prove just how much research has been done.
Naturally, there are plenty of character stereotypes in the show, from Rebecca Mendoza's role as loud and silly single best friend Tracey and Robbins' Consuela. But each role is played with affection and an awareness of their lack of dimension. In fact, Robbins' recurring joke about signs often gets the most laughs.
As pink-suited entertainments manager Garry, McElderry delivers every line with a cheeky wink and sashay. He's a confident front man, leading the audience in a dance routine which recurs throughout the show as well as lending his smooth vocals to classics such as "Addicted to Love". He is matched by Emily Tierney as Christine, the baddie of the show. Staggering across the stage like Miss Hannigan, Tierney hilariously delivers one-liners and perfectly executes several slapstick moments. She also gets moments to showcase her fantastic voice, too.
Club Tropicana the Musical is camp and bawdy fun, just don't expect a musical masterpiece.