Review: Aspects of Love (Southwark Playhouse)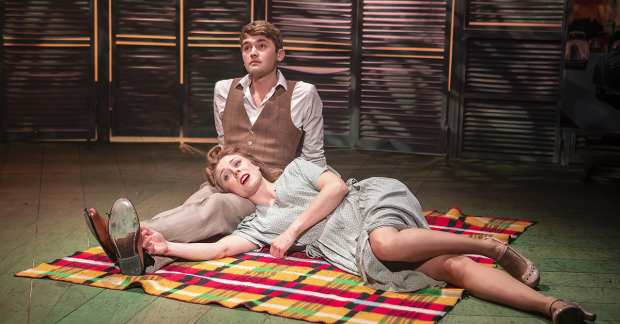 As Andrew Lloyd Webber's first show after the unstoppable Phantom, Aspects Of Love has always been popularly regarded as something of an also-ran, despite a three year West End original run, making a star out of Michael Ball, and including the ballad standard "Love Changes Everything".
Distilled from David Garnett's bed-hopping, free-spirited romantic novella published in the '50s, it probably works best as a chamber musical rather than as the lavish extravaganza it was at its premiere. A potentially over-precious tale of boy-meets-older-actress (who leaves him for his debonair uncle thereby setting off a daisy chain of longing, liaisons and questionable behaviour), it could, handled indelicately, have a sky-high 'ick' factor. It benefits however from one of Lloyd Webber's most ravishing – and underrated – scores.
Jonathan O'Boyle's entrancing, swirling new production sacrifices opulence to admirably swift, emotionally clear storytelling and psychological truth, particularly in the case of the three female characters at its centre. Jason Denvir's flexible, charming slatted-door set design looks like an homage to Maria Björnson's gorgeous original and, in tandem with Aaron J Dootson's evocative lighting design, succeeds in whisking us around the various European locales – from Paris to Venice then Pau in the South of France- between the 1940s and 1960s.
Lloyd Webber's critics accuse him of endlessly recycling the same tunes over and over, and, in all fairness, this score wouldn't convince them otherwise. But what tunes they are: a feast of swooning, melodic beauty that haunts and exhilarates then suddenly surprises with a dissonant a capella quartet (the strangely lovely "Falling" in the second half where lead characters vocalise their take on a romantic all-hell-breaking-loose) or a thrilling, stomping tango-infused funeral lament.
Don Black and Charles Hart's lyrics are generally more serviceable than inspired, occasionally descending into risible ("I think I know the reason you're so keen for this to end/I saw what you were doing with your new Italian friend") but are bolstered by the sheer magnificence of the music. I occasionally missed the swell of a full orchestra but Richard Bates' two piano plus percussion arrangements feel minimalist-classy rather than cheap.
Earlier iterations of the show centred on bewildered public school boy-turned-soldier Alex (Michael Ball's original role), but here the focus is on Rose Vibert, the actress who changes his life forever. A fascinating, contradictory woman with agency, sexual voracity, humour and emotional intelligence, she is, apart from the title role in Evita, the most interesting female lead in the Lloyd Webber canon, requiring stamina, serious acting chops and a virtuoso vocal range. O'Boyle's production strikes gold with Kelly Price who tempers Rose's maddening narcissism and rampant sensuality with a natural magnetism and innate generosity of spirit, topped off with a fearless, enthralling mastery of the role's massive vocal demands. It's not hard to see why Felix Mosse's fresh-faced, sweet-voiced Alex or his urbane Uncle George (Jerome Pradon, charming) fall for this force of nature. Price's stunning version of Rose's vamping, scale-climbing 11 o'clock number "Anything But Lonely" (the equal of Lloyd Webber's "Memory" or "Don't Cry For Me Argentina" but probably less well known as it's so bloody hard to sing) is worth the price of admission by itself. She is astonishing.
Looking and sounding like an Italianate Ute Lemper, Madalena Alberto's gorgeous sculptress who upsets the romantic apple cart is also terrific, combining wry wit with roof-shaking vocals. Eleanor Walsh is initially delightful then genuinely moving as a precocious youngster caught up in the erotic shenanigans, with a voice of pure quicksilver.
A glamorous, captivating European antidote to a miserable London winter and with a sensational central performance, this is one to see.