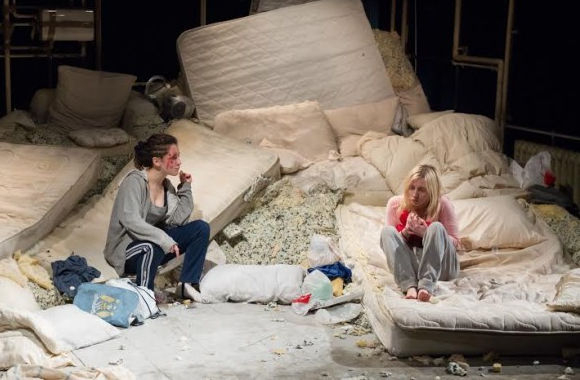 On the walls of the staircase up to the Jerwood Theatre Upstairs are framed playbills advertising the original production of Look Back in Anger at the Royal Court in 1956. Osborne's wail of lower-middle class dissatisfaction gave a voice to a formerly unheard section of society, and most critics and audiences were aghast at its squalid setting and anarchic values. Yet it transformed what was able to be seen in British theatre, and was one stimulus of a discourse that led to greater social awareness. It is a sign of the times that we are so accustomed to seeing plays, TV series and films about the suffering of the outcasts of our hyperactive consumer society that Pests will be unlikely to have a similar impact. In a world without political inertia and compassion fatigue, Vivienne Franzmann's extraordinary new play would deafen us with the sound of its alarm bells.
Twenty five year-old sometime convict Pink lives in conditions that make Jimmy Porter's bedsit look like a sumptuous palace. She whores for the cash to buy drugs, and life is a series of skirmishes with punters, dealers and the outside world in general. Her younger sister Rolly, freshly released from jail, heavily pregnant and determinedly clean, comes to crash in Pink's 'nest'. Rolly, though barely literate, has plans – she will get a job as a cleaner at a hotel in the country and life will turn around. Unfortunately, Pink has other ideas.
As Rolly's precarious hold on virtue is severed by her sister, still holding a grudge against Rollo for her having had a home-life with foster parents whilst Pink had to make do with the abusive swamp of a care home, the two waifs flail about in their filthy pit.
What stops their plight being unwatchable misery is the flaring energy between the drug bouts, exemplified by the remarkable heightened street talk that Franzmann has crafted into a new type of 21st century English, an absurd – and funny – argot mixing the recognisable English/Afro-Caribbean patois of modern youth with nursery talk, off-beat cultural references and made-up words. After a couple of minutes of adjustment, it's surprisingly easy to understand, yet it would have been completely unintelligible to Look Back in Anger's crowd.
Ellie Kendrick as Rolly shows how a sweet unworldliness can be corrupted when it sits on shaky foundations: her performance tears at the heart. Sinéad Matthews' Pink is a wired force of nature, with an energy that, in better circumstances, might have been harnessed for good. Along with Franzmann's exuberant yet tenderly perceptive writing, the exceptional performances and Lucy Morrison's pacey direction keep us mesmerised. I could have lived without the psychedelic video projections which were clumsily 'symbolic', and two scenes – the taking into care of Rolly's child, and Pink submitting to sex with invisible men – were both too perfunctory. But I felt flayed afterwards, and I say that in high recommendation.
Pests is a co-production between Clean Break Theatre Company, the Royal Court and Manchester Royal Exchange and will go on a short UK tour after its stint at the Court. If you want to see the state of modern theatrical social comment, don't wait to book your seat.
Pests continues at the Royal Court until 3 May 2014. Click here for further info and tickets