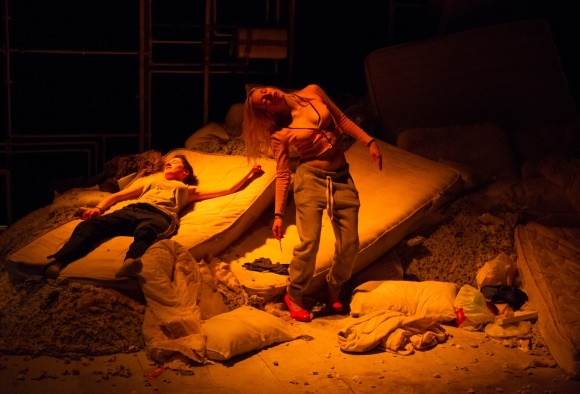 Vivienne Franzmann's Pests is a play revolving around two sisters, Rolly and Pink, who have nothing and nobody apart from each other.
The first thing that strikes you about this production is the fluency of the language used. Each character has their own dialect andin doing so, separates each of their realities; Rolly's is laced with optimism whilst Pink's is littered with fragments of her harsh existence. It is rich, poetic and for me is reminiscent of poets such as Kate Tempest and John Cooper Clarke. Despite these qualities, it is its jagged nature that makes it authentic. The language arguably creates a barrier between the audience and the characters, distancing them immediately.
The two sisters have been in care, struggled with heroin addiction, methadone dependency, literacy issues, memories of childhood sexual abuse, time in prison, pregnancies that have ended with children being removed, mental illness, violence, unemployment and poverty.
On paper you would think this too far-fetched to be true, yet watching it happen you slowly realise that each problem is embedded within another, which then creates a domino effect. Once one thing happens, it triggers a mountain of consequences in its tide, taking the two characters further into despair.
The characters are complex to say the least. Rolly is desperate to leave her current situation, while Pink doesn't want to be left to face her situation alone. Though Pink does some despicable things, I couldn't bring myself to hate her – in fact, you feel sorry for her. The performances from both Ellie Kendrick (Rolly) and Sinéad Matthews (Pink) are superb. Against the sparse setting they shine, illuminating exactly what is wrong with today's society and the attitudes and values it favours. A line that was still turning itself over in my mind even when I was walking home was from Pink; she says during a nostalgic anecdote, "I am the Earth".
Pink's character contains every feature of humanity. She is just as jealous as she is vulnerable. In a way she is more human than most of us. Many of us look upon people like this with disgust, as if they are literally "pests". The play explores the idea that they are human and contain just as much humanity as you and me.
Lucy Morrison's excellent direction invites an audience in and the effect is unflinching, raw and gut wrenching. It educates us of a very real reality, quite like how Rolly tries to teach herself to read The Wizard of Oz. It is heartbreaking moments like this that amplify the help these people need and deserve.
Pests doesn't just educate us on what is actually happening, but urges us to do something about it.
Pests is at the Royal Exchange until 22 March, followed by a transfer to the Royal Court, London.
– Elise Gallagher