Patriots review – oligarchs rise and fall in the West End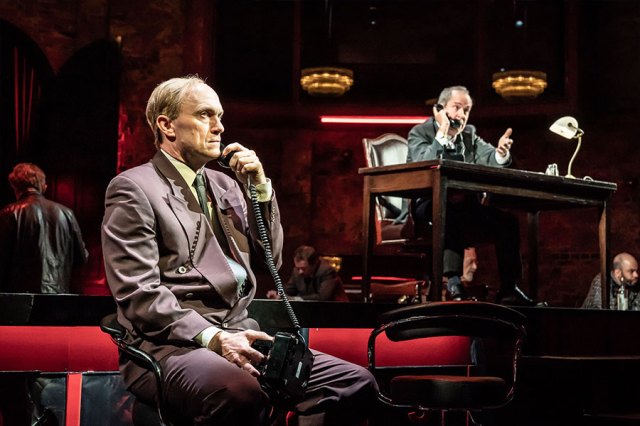 It's a betrayal as old as time itself, the kingmaker is turned upon by the very subject that he has made king. In this transfer from the Almeida, Peter Morgan charts the collapse of the Soviet Union and the post-perestroika era that would see the rise of the oligarchs and the power-grab by this small group of businessmen that efficiently and callously plundered their own beloved motherland.
Chief amongst them, Boris Berezovsky. He bought up the Russian car industry at its infancy before going on to take large chunks of the Russian mainstream media for his own ends – "it controls opinion" he tells us in Morgan's modern history play of Russia. Berezovsky liberally lined his pockets and made himself an instrumental part of the Yeltsin administration before setting to work to find someone new to install as President and to be his new puppet – Vladimir Putin.
Morgan portrays Putin as a patriot – but of course patriotism means something quite different for each and every one of us. Morgan's Putin begins as a principled man, a man of honour, one that refuses to be bribed and believes in the "liberalisation of Russia and moving closer to the West". It's a far cry from the savagery and lunacy that we are witnessing on our televisions from him today.
The focus of Morgan's material is on Berezovsky, however. Tom Hollander gives an impressively commanding performance as the Russian. He is as fearsome as he is humorous and bursts into spectacular volatile tirades of passion in his beliefs. Holland is unafraid to make Berezovsky a tirelessly bombastic and rumbunctious hooligan of a man, yet always stays just the right side of caricature and never overplays the comedy. There is darkness to this controlling and fearsome man and Hollander jumps into it with both feet.
Will Keen's Putin is even more extraordinary. Quietly lurking in the shadows to begin with, there is a danger to his performance that makes it a captivating watch. The brutality in him grows and evolves – the tension seems to wrack Keen's body as he slowly morphs into the Russian President, encapsulating the man whose image we have all come to know and loath so well. The raised shoulders, the gaited walk and the icy stare are all there, it's a brilliantly chilling performance.
Luke Thallon's Roman Abramovich is nicely charismatic and good naturedly becomes instrumental in Berezovsky's downfall. Josef Davies' Alexander Litvinenko is only given limited material with which to get under the skin of the ex-FSB agent – the one man that stays with Berezovsky into exile in Britain. His untimely death is well documented yet here is skimmed over far too quickly, so never packs the punch that it should.
Which is where the fundamental problem lies with Morgan's script. Mostly the characters come and go at a rapid pace, with little opportunity for development or real in-depth understanding. There is a very linear approach to the chronological storytelling that ends up feeling more like a textbook history lesson and less like real drama. The central performances are exquisite, but the writing is a little too ponderous and focusses too much on the early days, and not enough on the now.
Rupert Goold directs with his characteristic flair but appears to be hampered by the undynamic nature of the writing. A beautiful set design by Miriam Buether is suitably opulent and seedy all at once, complete with recreated Almeida brick wall, it is part catwalk and part bar at which vodka is downed at an alarming rate.
Patriots is at its best when it is just Hollander and Keen onstage. The sparring of Berezovsky and Putin is thrilling to watch in the hands of these two fine actors. The moment that the power balance shifts is a historic moment and one that will go on to impact the world in unimaginable ways. It would prove to be Berezovsky's greatest regret and would ultimately lead to his death in exile in London. It's timely that this play should be in the West End now, as the world treads around the edges of war with Putin once more.