Nothing Like A Dame reveals how even Judi Dench and her fellow dames are plagued by self-doubt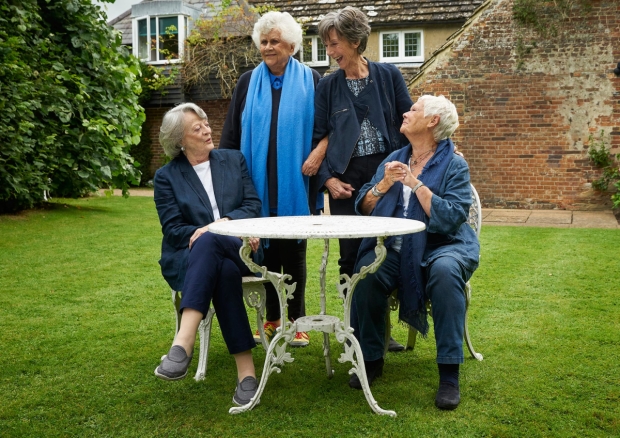 The person who came up with the idea for Nothing Like A Dame deserves a pat on the back. Or perhaps a glass of champagne. Because this devastatingly simple documentary is also an absolute winner. All it does is take four dames – Joan Plowright, Judi Dench, Maggie Smith and Eileen Atkins – all friends and longtime colleagues, who meet regularly to chat and reminisce, and ask them if they mind doing the same thing in front of the cameras.
They do, slightly, and moan about camera angles and endless photographs. But the result is documentary gold. You can see the results in cinemas tonight – there are exclusive premiere screenings which include an interview with director Roger Michell on Wednesday 2 May – with the film on general release from Friday and on the BBC in June. Anyone who cares about theatre, resilience, growing older gracefully, laughter, love or life itself really should watch it. It's a revealing and life-enhancing hoot.
It's also an extraordinary historical document. The post-war world the women conjure – three of them are 83, Plowright is 88 – is lost forever. It's a place of children dancing in working men's clubs ("paedophilia land really," remarks Atkins, wryly) and theatrical landladies. "If the landlady wasn't very nice you used to nail a kipper under the table before you left," remembers Dench. Atkins tops that with a story of Timothy West coming home to find a landlady having sex on the kitchen table. "Unaware there was a kipper attached to it," says Smith, with the comic timing that has made her a legend.
It was a land where Dench could join in the community production of The York Mystery plays in 1952, captured in grainy silent film, where people run round as enthusiastic devils and she looks like a cherub in a bad wig. "A maybug flew up my sleeve," she says, peering at the film, before reciting the speeches she remembers, in those marvellous husky tones. "Oh my word. What a lovely thing to have."
The glimpses of them as young women in the roles that made them famous are riveting
The richness of the women's memories is wonderful. Anecdotes emerge from all sides, nuggets of theatre lore brought to life. A lot of the talk is of Plowright's husband Laurence Olivier, who even at this distance provokes mixed feelings. "It was a great privilege to share his life as well as being a bit of a nightmare sometimes," Plowright says, quietly. Smith, who worked with him constantly in the early days of the National Theatre, remembers the way you could – literally – lean into his light, made brighter for his appearances. She also recalls being slapped nightly as Desdemona to his Othello. "I always said it was the only time I saw stars at the National," she jokes. Yet it was Smith that his children asked to come to hold Olivier's hand when Plowright was away, and he was old and sick.
The bond between them all, forged over such a long time, is palpable. The glimpses of them as young women in the roles that made them famous are riveting. They talk about technique, about retaining the poetry in Shakespeare while being naturalistic – then they show how it can be done. "It's a different form of naturalism each time," Atkins remarks sagely, noting how acting styles have changed.
Both Atkins and Plowright turned down the part of Cleopatra because they did not think they were good looking enough
But most revealing of all, given how indisputably great they all were – recognised as such from the earliest days of their long careers – is their lack of confidence, their sense of being under pressure. "Fear is the petrol," says Dench of her entire career. "All days are scary," says Smith, a double Oscar winner let us not forget, though she doesn't mention this, of working in film.
One of their most fascinating conversations is on the theme of Cleopatra. Both Atkins and Plowright turned down the part because they did not think they were good looking enough. "I didn't have the courage," says Atkins, who refused the role four times. "Nor did I, that's why I did it in Canada," says Smith. "Half of them would be saying oh she shouldn't be doing it, she's supposed to be a great beauty, so that's the first stumbling block," Plowright adds, on why she passed up the chance to play her at the National. Dench agreed to do it, but asked Peter Hall if he was sure he wanted "a menopausal dwarf" to play the part. "People laughed openly when I said I was going to play it," she says, giggling.
You see how deep a lifetime of being judged on the basis of appearances can cut
It's astonishing that such towering performers, women who defined acting in modern times, who dominated not just the British but the English-speaking stage, could feel such doubts. You see how deep a lifetime of being judged on the basis of appearances can cut. Atkins confesses that an early remark from a male producer that she wasn't pretty but she did have sex appeal has sustained her throughout her career. "People assume you think you are the bee's knees and will take on these parts," says Plowright. "They don't realise that you are shaking inside."
Hearing such beautiful, clever, stylish powerful women talk this way made me angry. They don't make much of a fuss about it yet how awful that they should have been made to feel that way. It undoubtedly still goes on but at least these wonderful Dames have blazed a trail for others to follow.