Michael Coveney: Maggie Smith has given us so much that was worth writing about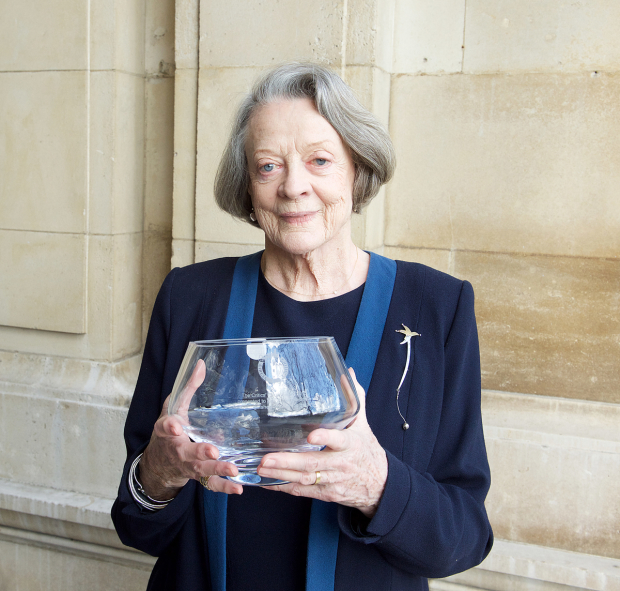 Dame Maggie Smith was honoured at a Critics' Circle lunch yesterday in the National Liberal Club for services to the arts, following such recent winners on this podium as Ken Loach, Stephen Sondheim, Grayson Perry and Nicholas Hytner. The vote was open, as usual, to all members of the circle, whatever their discipline or persuasion, and she was a fairly unanimous choice.
The prize is an engraved glass bowl, a replica of the Dickens bowl first donated by the actor manager Seymour Hicks in honour of the great novelist, handy for hyacinths or a very large bumper of something fizzy or fabulous. She accepted the trophy with characteristic good grace from our president, dance critic (and former dancer) Jeffery Taylor, and was introduced by drama section chairman Mark Shenton.
She then covered her ears while I launched into my encomium on the podium, shooting me with an imaginary gun and saying — when she left two-and-a-half hours later – that she wouldn't say any more, otherwise there would be a third volume of my biography which she keeps, unread, in a darkened room alongside her box set, unwatched, of Downton Abbey.
I applauded the fact that she is a global star, not a magazine celebrity
She looked fabulous, of course, and arrived alone, nursing a bad cold and not feeling sociable at all. At least she had a bowl of soup, which she enjoyed; the last time we had lunch together she had a glass of water. By the time she left, she'd sipped a glass or two of wine and regaled us with stories of Olivier, Albert Finney, Keith Baxter, Margaret Tyzack and Brian Bedford.
These were some of her favourite people; Baxter is still with us, of course, and recently defined for Michael Billington the secret of his phenomenal octogenarian juvenility as "sex appeal." As indeed are Alan Bennett and Nicholas Hytner, though when pressed on whether she might open the new Hytner/Nick Starr theatre next year on the South Bank in a new Bennett piece, she said simply, "That's not gonna happen."
But you never know with Maggie: over the last twenty years, which are marked by the Harry Potter series (Minerva McGonagall was "Miss Brodie in a witch's hat"), Downton Abbey and three great stage performances in Edward Albee plays, she's still made twenty other movies. Her energy is phenomenal and, physically renewed with a new hip, who knows what might happen…the circle toasted her roundly and she slipped away, charming and tolerant towards any of us who approached her, home to Fulham, as elegantly discreet as ever, with a few dirty laughs on the way.
I'd made a point in my speech of saying that we appreciated her because, over six decades, she'd given us, as a body, so much that was worth writing about. I quoted Harold Hobson and Bernard Levin, but also critics manque Tom Stoppard and Simon Callow. I could have added wonderful appreciations by Alan Brien, Bamber Gascoigne, Ronald Bryden, Irving Wardle and Paul Taylor…as critics, she's one of the rare actors who raises our game.
And I applauded the fact that she is a global star, not a magazine celebrity, and an example of how to conduct yourself if you don't want to play the publicity game – except on your own terms. It remains an astonishing fact about her that she really has worked with all the legendary greats in her lifetime: Welles, Olivier, Burton, Coward, Edith Evans, Gielgud, Finney, Dench, Cukor, Caine and forgotten greats like Alan Badel and (a particular favourite) Phyllis Calvert…and she's still so girlish, naughty and stylish.
Watch Maggie Smith's full acceptance speech here
Dame Maggie Smith receives The Critics' Circle Award 2015 For Services to the Arts from Elliott Franks on Vimeo.