Miss Nightingale (Tour – Ipswich)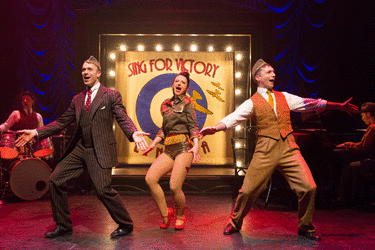 Matthew Bugg's musical Miss Nightingale has been revised and largely recast for this new touring production, once more by Peter Rowe. I didn't see the original version, but it seems that this new staging, a co-production between the New Wolsey Theatre, Ipswich and Cast, Doncaster's newest performance venue, is not only shorter but realigns the emphasis placed on the three main characters.
More Mr than Miss Nightingale, perhaps – and it's made clear both in dialogue and the "Mister Nightingale" number sung by Frank (Tomm Coles) that Maggie Brown (Jill Cardo) has to share the limelight with both her Polish Jewish refugee musician George (Harry Waller) and impressario Frank.
The musical numbers are tuneful and nicely within period. The cast of six play the accompaniments and foot it fleetly. Cardo makes Maggie into a strong woman, one who will pick herself up whenever fate knocks her over, but not perhaps as sympathetic as the heroine, who is after all the title character, should be.
That shifts the emphasis onto George, a bisexual who can't help contrasting his carefree and hedonistic Berlin cabaret days (before the Nazis seized power) with wartime England with its black-market and racist undertow and the ever-present threat posed by his totally illegal homosexuality. Waller gives a rounded portrait of a man struggling to cope with many kinds of loss and his two big numbers – "Meine Liebe Berlin" and "I'll sing for no one but myself" – crystallise his dilemmas.
Frank has more to lose, materialistically at any rate. His father is a judge, he has served his country with distinction and has the money to indulge his tastes and his interests. Coles rightly shows us the charm of the man, but also the weakness wearing thin under the surface. His mirror image is Tom (Adam Langstaff), one of rationing's fixers with a useful sideline in blackmail. Both men, in different ways, let Maggie down.
Designer Carla Goodman offers us a small stage, suitable for the intimacies of a night-club, flanked by the musical instruments and with George's spartan bedsitter to one side and a suggestion of a dressing-room to the other. It all has an air – appropriate for the period and the story – of make-do-and-mend, so the ENSA finale really packs a punch of its own.
Miss Nightingale runs at the New Wolsey Theatre, Ipswich until 5 April and then tours nationally until 3 May.