Matilda the Musical in the West End: first look at the new cast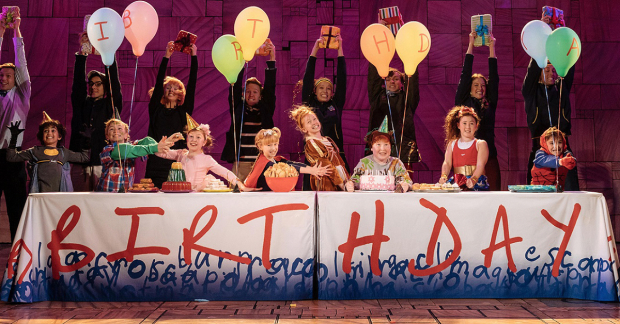 New production images have been released for Matilda the Musical as the show celebrates beginning its eighth year in the West End.
Opening on this day at the Cambridge Theatre in 2011, the show went on to win a record haul of Olivier Awards in 2012.
In the most recent cast change, Hayden Tee joined the West End show as Miss Trunchbull, alongside Rob Compton and Holly Dale Spencer as Mr and Mrs Wormwood.
Gina Beck joined the company as Miss Honey the year before, and continues in the role, while Isobel Hubble and Francesca McKeown have joined Sara Munday and Olivia Wells in sharing the title role of Matilda.
The piece is written by Dennis Kelly with music and lyrics by Tim Minchin, and was developed and directed by Matthew Warchus. The production is designed by Rob Howell, with choreography by Peter Darling, orchestrations, additional music and musical supervision by Christopher Nightingale, lighting by Hugh Vanstone, sound by Simon Baker and the special effects and illusions are by Paul Kieve.
The London production of Matilda is booking until 20 October 2019 whilst the UK and Ireland tour will be playing in cities across the country until 17 August 2019.