Lulu – A Murder Ballad (Royal Opera House)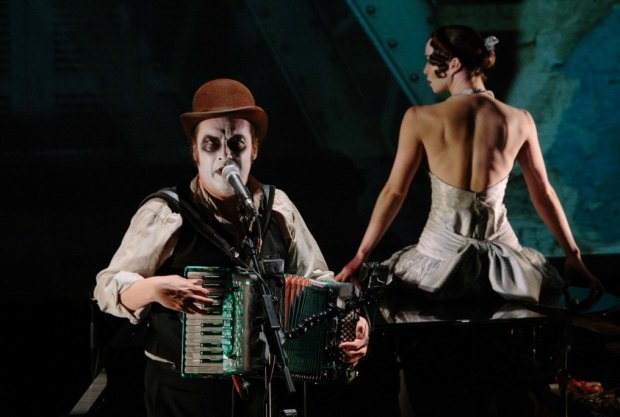 In the realm of performance art The Tiger Lillies are the real deal. Martyn Jacques only has to roll up centre-stage, bowler-hatted and panda-eyed, a musical mucker on either side, and it's a show. He, bassist Adrian Stout and drummer Jonas Golland are like creepy seaside mannequins: put a penny in the slot and insidious Weimar waltzes ooze from the trio's instruments under Jacques's sulphurous falsetto. It's weird, clever and funny.
That 'funny' is a problem in Lulu – A Murder Ballad, because as a story it's not much of a giggle. The misadventures of Frank Wedekind's tragic prostitute start at her father's knee and end at the hands of Jack the Ripper; what happens in between is unremittingly squalid, abusive and murderous. Chuckle at that? Well, no, and that's the point. Jacques's extended song cycle (for which he wrote both words and music) rarely goes for laughs yet his white-faced, bug-eyed persona cannot help but invite them. However much he snarls there's a Barry Humphries character just below the surface. It leads to an uncertainty of tone that the show never resolves.
The self-styled 'anarchic Brechtian street opera trio' is indelibly linked to the blissful black humour of Shockheaded Peter, the celebration of non-PC German cautionary tales that drew hysterics and ran forever.
Lulu matches that Oliver-Award-winning show in its visual ambition, as dancer Laura Caldow embodies Lulu throughout the evening via expressive interaction with director-designer Mark Holthusen's dazzling virtual sets. Computer visualisation doesn't get better than this: layer upon layer of projected environments shuffle and morph, and even the proscenium arch is a screen. One minute it's naturalistic, the next it hallucinates.
The show overdoes the lip-smacking lasciviousness, though, as it celebrates the macabre and melodramatic at the expense of the tragic. The songs are haunting but there's a Tiger Lillies sameness to them (then again it would be a surprise if there wasn't) as Jacques embodies all of Lulu's – for want of a better term – 'lovers'. But love in this world is a word to be spat and hissed with baleful irony. "Every kind of love but true love", as he observes in a moment of sobriety.
For the most part there's a Shockheaded gleam in the show's eye that probably shouldn't be there. When, in a postlude, Jacques delivers Cole Porter's "My Heart Belongs to Daddy" as an incestuous lullaby, it makes you reflect that however bad things are for Lulu they'd be a whole lot worse if she sucked her thumb.
Tiger Lillies – Lulu: A Murder Ballad was commissioned by Opera North Projects. It runs in the Linbury Studio at the Royal Opera House until 28 November, with an additional performance at the Brighton Dome on 30 November.