L'Ormindo (Sam Wanamaker Playhouse)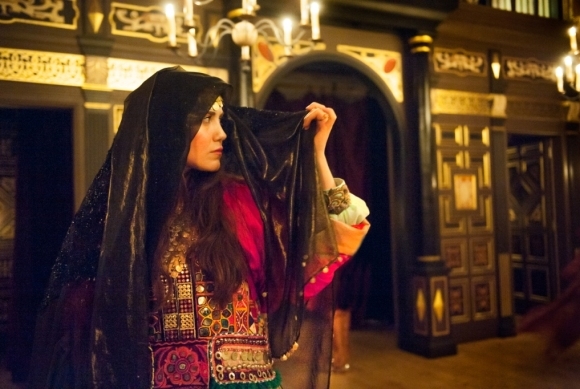 The first revival of a runaway success is always tricky. Will it measure up second time round? Will the production be as tight and together as it was? In short, will lightning strike twice?
There's nothing to worry about in the case of the Royal Opera/Shakespeare's Globe staging of Cavalli's L'Ormindo; it's not just lightning that's struck again, it's a full-on natural phenomenon. Ten months on from its unveiling the entire original company has reassembled – and that includes the inspiring harpsichordist-conductor Christian Curnyn, happily back in harness after an enforced layoff. His eight-strong Early Opera Company orchestra is its fluid, fluent self.
Like many of the best surviving Baroque operas, L'Ormindo is an irreverent entertainment that just happens to be blest with a rich and ravishing score. It certainly doesn't owe its durability to the plot, which amounts to little more than a slightly silly love tangle. Kasper Holten's fizz-popping staging recognises this and he turns in a sort-of-period production with the emphasis squarely on fun.
Now and again I found myself wishing he and revival director Toria Banks would let L'Ormindo amuse me less and move me more. There are moments when all the funny bubbles obscure the opera's heartfelt passages, even though these are the very moments when Cavalli's music best delights the ear. But maybe I'm nit-picking. The whole evening may be little more than a confection but everyone likes a sweetie from time to time.
Besides, what a cast, and how forthright their delivery of Christopher Cowell's pitch-perfect translation. Sweet-voiced tenor Samuel Boden may take the title role, but he is only one among equals in a nine-strong ensemble that fills the tiny stage, leaps among the audience and bursts through the floor and ceiling traps. Amidas, his rival in love, is sung with burly grace by Ed Lyon (who is somehow managing to juggle his appearances with singing the Steersman in Die Fliegende Höllander) while two irresistible sopranos, Susanna Hurrell as Erisbe and Joélle Harvey as Sicle, vie for their affections.
Counter-tenor James Laing gets some knockabout set-pieces as the dramatically superfluous Nerillus (he's practically a Commedia clown), while Graeme Broadbent's humour is more of a twinkle in the eye – but it's there even so – as the baleful king whose jealousy almost sparks an unhappy ending.
Ashley Riches as the saturnine Osman and Harry Nicholl, in full drag as a big-breasted soothsayer, steal a goodly number of scenes, but it's the young mezzo Rachel Kelly whose appearances as Erisbe's confidante, Mirinda, prove the most luminous.
The Sam Wanamaker Playhouse, as most people know by now, is lit solely by candlelight. There is an episode of utter beauty in Holten's production when two stricken lovers sing their last duet while a black-clad figure extinguishes all the candles, one by one, and oblivion descends. It's a moment that comes late in the opera's third hour and it's spellbinding.