L'Ormindo (Sam Wanamaker Playhouse)
At the beginning of Cavalli's L'Ormindo, 'Music' descends from the heavens and consecrates the house, the perfect opening for the first operatic venture in the new Sam Wanamaker Playhouse on the South Bank.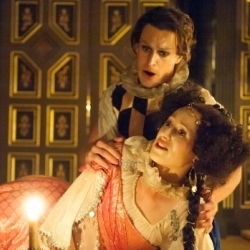 Nestled within yards of its bigger sister, the 17-year-old Shakespeare's Globe, this newest of London auditoria, modelled on a Jacobean indoor playhouse, was always part of the late Sam Wanamaker's reconstruction plans. Unlike the bigger venue it's enclosed and unbelievably cute, magically lit by candles and snug as can be.
Critics who forecast that pitching us back into original practice would be little more than a tourist attraction have been proved wrong again and again over the past two decades, with the Globe turning in some truly thrilling theatrical experiences. This newcomer looks set to do the same and, for opera, it's a whole new departure. Original instruments for early works is common practice these days and now the building's thrown in too.
L'Ormindo represents a great opportunity for the Royal Opera, who here link up with the Globe, giving Director of Opera Kasper Holton his first stab at the early repertoire. There could hardly have been a better choice than Cavalli. Athough Holten admits it's not how the opera would have been originally done (more a ballroom or court setting), it's perfect for the knockabout, fantastical divertissements, combining intimacy with spectacle, that took 17th Century Italy by storm.
In common with other Cavalli operas (thankfully becoming more and more frequent), the evening's a curious mix of the serious and comic, with a convoluted and exotic plot and heart-meltingly lovely music. It lacks the dramatic and musical sophistication of the composer's La Calisto, mounted by the Royal Opera in 2008, but with a storyline of the thwarted love, diabolical revenge variety, with comedy tenor nurse and a perfect balance of voice types, it's both familiar and thrillingly new.
Holten's contribution is of the simplest kind; no fancy directorial interventions but straightforward no-frills story-telling. Anja Vang Kragh's sumptuous costumes add colour and wit, with great visual gags as Erisbe wears her bed on her back and a male Love pirouettes in heart-shaped tutu.
The singing is superb, with a largely youthful cast, some drawn from the Royal Opera's Jette Parker Young Artists scheme. Joélle Harvey is gorgeous as the put-upon Sicle, her distress at her lover's abandonment of her truly touching in its sincerity, and Susanna Hurrell delights as the princess Erisbe. Rachel Kelly is a vision of loveliness as the scheming servant Mirinda, her mature mezzo belying a slender frame.
The men, led by rival lovers Amidas (Ed Lyon) and Ormindo (Samuel Boden) – a choice for the princess between man and boy – are just as good and the current go-to early music conductor Christian Curnyn directs his tiny band from the harpsichord with unflagging brilliance.
The Royal Opera used the occasion of the production's opening to announce a further foray into early opera, with plans to stage Monteverdi's L'Orfeo at Camden's Roundhouse in 2015. It's high time they plundered this repertoire, long absent from the main house, and moving into smaller off-site spaces is an exciting development for the company.