Lady Dealer at Edinburgh Festival Fringe – review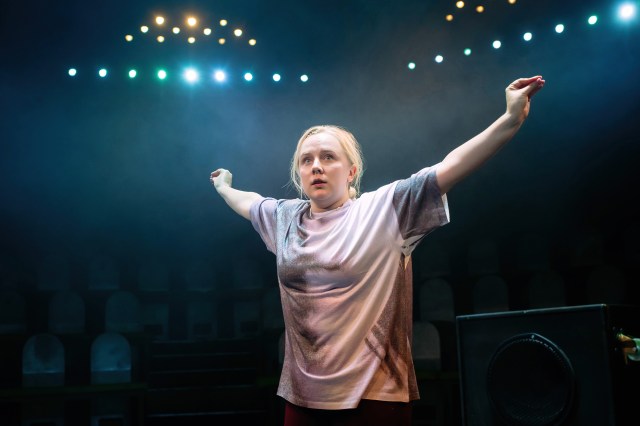 There's no hiding place for the central character in Lady Dealer. She wakes up in the middle of the stage after what might have been a rough night, and for the next hour, she's at the front and centre of the audience's attention, sharing the stage with nothing other than a few speakers and some cables with which to charge her phone.
This is Charly, a 26-year-old drug dealer who lives alone in a council estate in Peckham. She's unusual in her profession, being a woman, and today, she tells us, is going to be like every other day, and that's fine… isn't it?
Turns out it's not that simple. Martha Watson Allpress's new play in Summerhall's Rounadbout theatre takes us deep into Charly's personality, and it turns out her confidence might not be so genuine after all. She frequently repeats key phrases to reassure herself, chief among them her simple mantra "I am fine." It becomes less convincing with every repetition, though.
The play doesn't contain much action. Charly makes her morning coffee, receives a visit from a client, goes to McDonald's and meets her downstairs neighbours during a power cut. However, her reaction to these events takes her, and us, deep into her psyche to reveal somebody in whom insecurity and fragility gradually but consistently bubble through, and whose bravado becomes less convincing as the play progresses.
Allpress's language is delightfully playful throughout. Ostensibly the play is a poem, but it's more like a very free rap with an occasional rhyme (which Charly mocks at one point) so that I stopped noticing it after a while. Blank verse this ain't. Other linguistic tricks include the unconvincing repetition, and occasional phrase to make her seem more educated than we might have expected. Occasional turns, such as the unusually sensuous description of the tower of books she keeps in her bedroom, reveal some things that Charly might have preferred to keep hidden, and the imagery Allpress puts in Charly's mouth is often movingly poetic. In one of her more honest moments, Charly describes herself as a forest fire, or landfill, and she admits movingly, "I feel no shame about my job. I feel deep shame about myself."
The strength of the play comes in how Charly fully, but almost unwittingly, takes the audience into her confidence. That's partly due to the skill with which Charly's monologue is performed by the enormously likeable Alexa Davies. She's a ball of energy who holds the audience gripped, and she plays every part of Charly's character, in its self-discovery and its self-deception, with both honesty and empathy. Emily Aboud's direction is clean and focused, using sound and light to complement the acting in the in-the-round space.
Spoilers for what follows but, unfortunately, the ending of the play fizzles out a little. The introduction of a second character in the final moments feels unnecessary. Davies is perfectly capable of holding our attention by herself, something demonstrated by the claustrophobia of those final moments when she wraps herself in things that remind her of her ex-lover. While we get deeper insights into Charly's character, by the end of the play she's as self-deluded and tied up in her situation as before. Maybe every day is the same for her, after all.