Ladies in Retirement (tour – Stevenage)
The retirement in the title of Edward Percy and Reginald Denham's thriller is that of former musical actress Leonora Fiske. She's done well out of her career, on and off the stage, has a large house close to the Thames estuary where it melts into the North Sea, can indulge in a liking for antiques and employs a housekeeper-companion, Ellen Creed.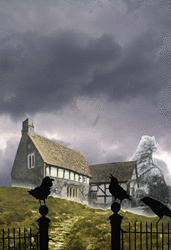 We're in the early 1900s, when even a star of D'Oyly Carte's Savoy Opera Company might need to supplement her income with contributions from an aristocratic and generous male admirer. Miss Fiske, however, takes her religion (Roman Catholicism) seriously and is happy to offer help where it's needed.
The Creed family's nephew Albert Feather makes the first call on her purse. Then Ellen brings her two impoverished (not to say extremely peculiar) sisters, Louisa and Emily, for a visit which extends itself past their hostess' patience.
Someone must leave the isolated house – but who? And how?
Shirley Anne Field is Leonora, though the play is dominated by Érin Geraghty's Ellen, all buttoned-up frustration as she attempts the impossible task of balancing loyalty and necessity, caring and preserving. Sylvia Carson's Louisa, all selfish chubbiness, and Karen Ford's Emily, one of nature's scavengers, are a nicely contrasted pair.
Then there's brash Albert, the ne'er-do-well nephew with itching fingers for both easily pocketed items and a pretty girl. Oliver Mellor brings him to life, with Melissa Clements as housemaid Lucy at first an apparent victim and later an equal accomplice.
I would have liked to be able to distinguish more of what Kim Taylforth's Sister Theresa was saying, as the nun's interventions are crucial to the plot. Ian Dickens' production keeps up the momentum, with KoKo's music from The Mikado (remember that his trade is that of an executioner) permeating each scene.
Ladies in Retirement plays at the Gordon Craig Theatre, Stevenage until 26 March as part of a national tour.