Kindertransport (Tour – Manchester)
When lead character Eva (Alicia Ambrose-Bayly, understudy for Gabrielle Dempsey on the night I see the show) starts to lose her German accent and becomes a fully fledged Mancunian, it is both heartbreaking and poignant. The city and country that was so welcoming has become home, but this means that her mother Helga (Emma Deegan) has no role to play in Eva's life.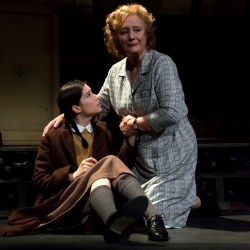 Andrew Hall's direction is so measured that he manages to draw beautiful performances in this tale of rejection, war and our changing landscape. If any play can be held up as a celebration of the human spirit, Diane Samuels' tale of one child among the 10,000 who boarded the Kindertransport, unaware of what was in store for her, is it.
Superbly rendered and delicately paced, we watch with historical knowledge, but what Hall and Samuels bring to the piece is a heartbeat. But this is not a depressing play by any means. Sure, the central plot strands are upsetting, but there is hope and plenty of humourous moments to stop it from becoming maudlin.
Bayly is particularly good, as she plays a child full of innocence and wide eyed wonder which contrasts with the young adult who cannot relate to her birth mother in later life. Janet Dibley takes over as the OCD adult who is living very much like a ghost – drifting in and out of rooms, simply passing through. Her performance is perfectly pitched and gives a real sense of how an adult can be forced to live in the past due to traumatic events they have experienced as a child.
Maggie Steed brings more than is on the page to Northern stoic mother Lil, who takes Eva in and gives her far more than bed and board. Deegan is not on stage for very long in the second half, but she is a mesmerising actress as she has two roles to play essentially: the seemingly cold mother who is only preparing her daughter for separation to retain both of their sanities. When she arrives in act two to take her daughter home, the effect is incredibly moving.
Paul Lancaster provides scares and symbolism as the ratcatcher and other supporting characters. Rosie Holden has a difficult role, as her modern day character Faith has nothing to compare to the awful lives many in the play have endured. So the character is left standing on stage upset and distraught because of her lack of belonging, but it pales into comparison with what we have witnessed from others.
Kindertransport could have been a depressing piece – overdone and earnest in the wrong hands. But here, we are given a slice of history delivered with intelligence, respect for the material and the audience. At times, there is the odd plodding moment involving the character Faith. But the end result is so gripping and involving that you can forgive the odd flaw.
Whether the central topic is new to you or you feel like you have seen or heard it all before, this production feels fresh and life affirming, and seeing it in Manchester gives it an extra special quality.
Kindertransport is at the Manchester Opera House until 29 March.