Jeepers Creepers (Leicester Square Theatre)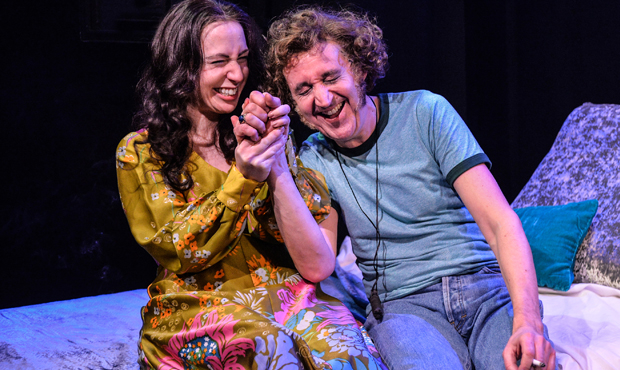 "Jeepers, creepers, where d'you get those peepers?" goes the old jazz song, but we're never told why manic Marty Feldman, bug-eyed comedy legend and star of Young Frankenstein, looked both ways without crossing.
We're not told lots of things in this tepid two-hander by Robert Ross directed by Monty Python's Terry Jones, who revered Feldman and wrote sketches for him. It's common knowledge, though, that Feldman had an operation for Grave's disease which went wrong, so that he could say things like, "When I was in bed with two women I didn't know which way to look."
Like Tony Hancock, Feldman died ridiculously young (aged 48) in a hotel bedroom pickled in booze and depressed. And, like Hancock, he'd ventured out of his comfort zone to make it big elsewhere; in his case, Hollywood, where the comparative success of Young Frankenstein (1974) – a film I find painfully unfunny – ends in the catastrophe of Yellowbeard (1983).
David Boyle's Marty has the right sort of hysterical jumpiness though he actually looks more like Gene Wilder than Feldman, while Rebecca Vaughan as his long-suffering wife, Lauretta, has the impossible task of sounding like a support system and a stern critic with dialogue that sounds as if it was compiled from how-not-to-write-a-play guide in one easy lesson: forget it.
The set is a small double-bed, which more or less takes care of the whole area in this pokey, uncomfortable second chamber in the Leicester Square venue. Marty's got the hump – still in hunchback mode as Eye-gore in the Brooks movie – as he prepares to go on the Merv Griffin chat show. He says he's insured in case he falls over and "figures" (as opposed to "disfigures") himself.
This is just the first of countless "jokes" that simply don't land. And even if you're old enough to know who Archie Andrews, "Schnozzle" Durante and Barry Took were, there's nothing interesting or funny about their evocations. "You know you're nuts when Spike Milligan recommends you see a psychiatrist," is about as close as we get to self-revelation; it's clear Feldman's life was spinning hopelessly out of control.
He smoked a ton of cigarettes daily, womanised and caroused incessantly, so it's no wonder the work suffered, along with his wife. He briefly regrets breaking up with his British comedy writing partner Took although he also hints at more than just gold-digging in Hollywood: "If I have to work on another episode of Bootsie and Snudge, my other eye would pop."
Bootsie and Snudge was the spin-off from the deliriously funny The Army Game in the 1960s; there again, who cares? It would have been better to have had more evidence in performance of Feldman's origins on the variety circuit and his obvious debt to his holy trinity of Buster Keaton, Stan Laurel and Harpo Marx.
Jeepers Creepers runs at the Leicester Square Theatre until 20 February.