Is it time to change theatre award ceremonies?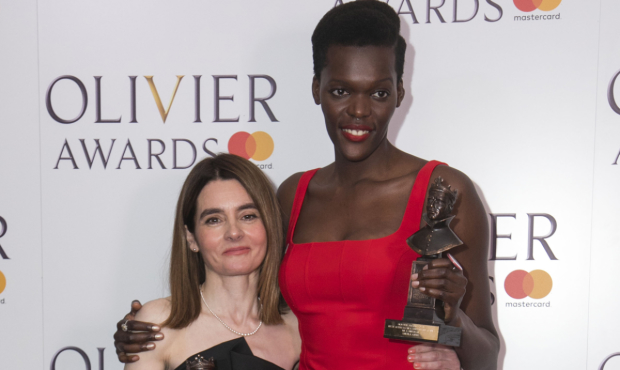 British theatre has had an extraordinary, vibrant, creative year, packed with great plays and terrific new musicals. But watching the Olivier Awards from my front row armchair last night, I wasn't sure I saw that. Certainly, if I wasn't already interested in theatre the major prize giving of the theatrical year would have done nothing to convert me.
The whole thing just seems so old-fashioned – a peril of all awards ceremonies. But in film categories at least you can show the product. Here, the magnificent plays in the best new play category – Network, Ink, Oslo and the ultimate winner The Ferryman – were silent. We didn't hear a single line of dialogue, or watch a moment that might somehow indicate how gripping and moving, thought-provoking and life-enhancing, they were to see. The fact that, as producer Sonia Friedman remarked afterwards, "There could have been another ten new plays nominated. I can't remember a better year for new writing," was nowhere acknowledged.
Hamilton's extract seemed flattened by the awards show format
We did see extracts from the stunning musicals nominated but it is perhaps unfortunate that 42nd Street and Young Frankenstein both were represented by the kind of fierce tap routines that could have been choreographed in the 1930s. Tracie Bennett from the National's production of Follies (winner of best musical revival) brought the house down in my living room with a committed performance of the old hoofer's lament "I'm Still Here". But only Everybody's Talking About Jamie, so unfortunate to emerge in the same year as Hamilton, came over with energy and a contemporary punch, a huge advertisement for actually going to see the show.
As for Hamilton, the night's big winner with seven awards including outstanding achievement in music and best actor in a musical for Giles Terera who plays Burr, and outstanding supporting actor in a musical for Michael Jibson's dazzling cameo as King George III, it didn't sell itself on TV as well as it does in the theatre. My heart was thumping with excitement when I saw the show but here the opening extract seemed flattened by the awards show format.
It wasn't helped by the fact that the show's creator Lin-Manuel Miranda was absent with shingles. I am not sure you would have known he wrote it, simply watching the TV coverage particularly since ITV decided to cut his sung acceptance speech – delivered by orchestrator Alex Lacamoire – which was very odd. Those there tweeted that it was very funny. So apparently was Catherine Tate, reduced on TV to looking nervous while introducing presenters.
David Lan's speech reminded everyone that theatre can have a social purpose as well as being all about glitz and glamour
There were surprises and lovely moments, however. The Ferryman was virtually a shoo-in by this point for best play (Jez Butterworth, accepting the award with his now patented insouciance, complaining wittily about the workmanship in the award itself), best director (Sam Mendes, making the thanks Butterworth didn't and including a lovely tribute to Howard Davies.) But Laura Donnelly's award for best actress, beating off strong competition from Lesley Manville (an unfortunate awards bridesmaid this year in film and theatre), Audra McDonald and Imelda Staunton felt like poetic justice; she not only inspired the play but performed it while pregnant and struggling with morning sickness.
Sheila Atim's best supporting actress in a musical prize for the Bob Dylan musical Girl from the North Country and a speech in which she thanked the women "who looked a bit like me" was heart-warming; her performance of a song from the show shimmered with power. Shirley Henderson's pure joy at winning the best actress in a musical category for the same production powered its way through the television screen and into my home. I loved David Lan's speech accepting his special award, too, reminding everyone that theatre can have a social purpose as well as being all about glitz and glamour. And I was thrilled that Marianne Elliott took home the prize for best revival for her fine rethink of Tony Kushner's Angels in America, which was one of the highlights of a good night for the National Theatre, with five gongs, including two for Follies (best musical revival, best costumes), for Denise Gough (best supporting actress in Angels in America) and Bryan Cranston (best actor in Network, and another poised speech).
In the howler of the night, RSC founder Sir Peter Hall was missed out of the In Memoriam section
In the howler of the night, the National's former director Sir Peter Hall was missed out of the In Memoriam section, as was Scott Ambler. These lists have to be comprehensive or they are ridiculous and forgetting Hall, so important to British theatre (he founded the RSC for goodness sake) was a particular scandal. On the whole, though, the Society of London Theatre can pat themselves on the back. Things went off well and the emphasis on Time's Up and ERA 50:50 was persistently highlighted.
But I do still wonder if it is time for a rethink. The thing about theatre is that it's a grubby, collaborative art, made by people in backrooms and tatty halls. Its working face is infinitely more inclusive and exciting than its dressed-up one; it is at its best when it is unbuttoned rather than poshed-up.
Somehow its major awards ceremony needs to show that – and to show it to the viewing public. A succession of people in nice frocks and black tie saying thank you is all very well, but it isn't the best advertisement for the thrilling, responsive, committed thing that keeps some of us going out night after night to see what it has to say.