In Dreams review – Roy Orbison musical is another bona fide hit for & Juliet team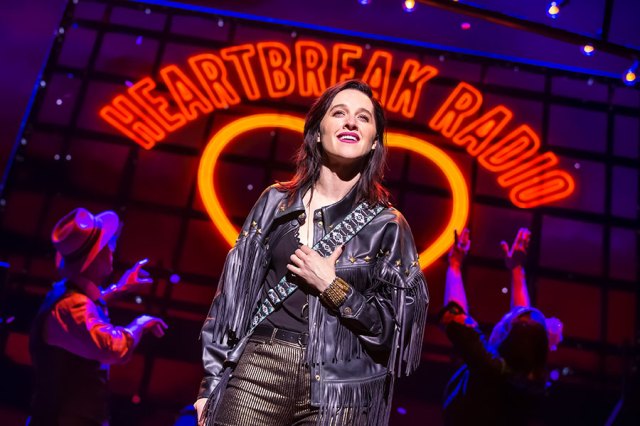 Musicals based on the songs of one artist or group have moved away from the straightforward sketch of a life story, but I think In Dreams is probably as unusual as it gets.
There are two main inspirations for David West Read's book: the songs of Roy Orbison and the Mexican Day of the Dead. Add in a past-her-glory-days rock star who has been diagnosed with cancer and regards her life as over, and you've got the mix for a lively and entertaining musical, One that, in the last half hour or so, is not afraid to confront real issues of mortality, friendship and love.
The evening begins with a single stool at the front of stage, occupied by Lena Hall as Kenna, rather overdoing the rock chick MO and belting out "Dream Baby". Then, when the curtains open and the cast swing in to Traveling Wilburys' "End of the Line", the splendid oddity of the whole thing begins to bite. Arnulfo Maldonado's evocatively designed New Mexico restaurant is a mixture of the familiar and the very odd. There are some tables on a neat little revolve, illuminated signs for American beers and a band stand in the corner, but there are also an altar decorated with mementos of the dead, a sign advertising 'Memorial Services' and rows of jars decorated colourfully.
Felices Suenos (the restaurant's name – Happy Dreams – neat!) offers, besides the customary delicacies, a service enabling loved ones to celebrate the life of the departed – and it's that service that Kenna, former lead singer with Heartbreak Radio, requires – except she requires it before death. She summons her band-mates Jane and Donovan (now married, with five kids) and her one-time love Ramsey (now an Uber driver). Widower George also joins the party, seeking reconciliation to the death of his second wife; and a police officer, a fan of Heartbreak Radio, appears having stopped Ramsey en route.
The sequence of Orbison solo songs – pleasantly related to action – continues until another glorious burst of the Wilburys' "Handle With Care" (Orbison was a member of the band until his death in 1988). At 60 minutes you think it is time for an interval, but Kenna is left alone with her agony. Her dramatic version of "Crying" is, in fact, a harbinger of the change of tone to come.
One of the strengths of Luke Sheppard's production is the quality of performances from a main cast of nine and four supports – and, also, the equal spread of opportunities to shine. Thus act two begins with outrageous Tom from the kitchen (Leon Craig) belting out "Heartbreak Radio" and George (Richard Trinder) delivering a witty "Oh, Pretty Woman" to Ana Sofia, the mischievous matriarch of Felices Suenos (Alma Cuervo).
Then it's time for loss, love and friendship to kick in. Oscar (Manuel Pacific) and Nicole (Gabriela García) have been singularly likeable hosts; now he faces up to his own sense of loss before Heartbreak Radio gradually reassemble, putting aside years of non-communication and fears for the future. Hall, projecting the tenderness that is there in most Orbison songs, deftly reveals the reality behind Kenna's hard-nosed toughness, while Oliver Tompsett's Uber driver Ramsey, introduced with a half-comical "I Drove All Night", rekindles lost love with heartwarming panache. Noel Sullivan (underplaying Donovan nicely) and Sian Reese-Williams (ready to rock as Jane) complete a well-balanced foursome.
Of course, none of this would be possible without Orbison's wonderfully evocative songs, with Patrick Hurley leading a sextet in underpinning the action as well as accompanying full-blooded renditions.