Watch "Handle Me with Care" from Roy Orbison musical In Dreams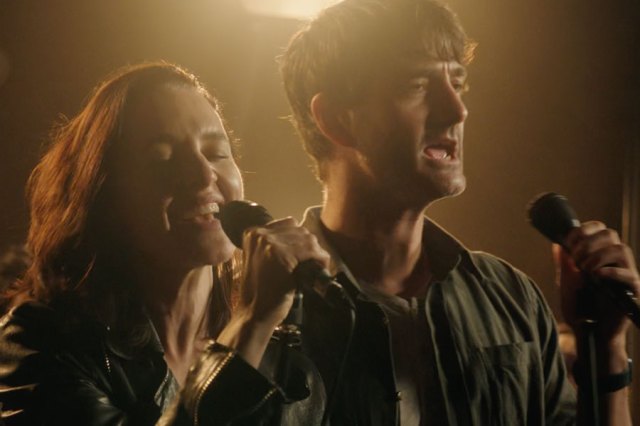 Leeds Playhouse has released a rehearsal video for its upcoming world premiere production of the highly anticipated new musical In Dreams.
Under the direction of Luke Sheppard (& Juliet), the show features the greatest hits of Roy Orbison. The story revolves around the former lead singer of a country rock band who, at a crucial moment in her life, throws a party at a family-run Mexican restaurant, aiming to reconnect with old friends while concealing her true motivations.
Update: take a look at production images:
Penned by David West Read, the Emmy and Golden Globe-winning writer (known for his work on Schitt's Creek and & Juliet), the production is set to run from 3 July to 5 August.
Leading the cast are Lena Hall as Kenna, Nöel Sullivan as Donavan and Oliver Tompsett as Ramsey, alongside Leon Craig as Tom, Alma Cuervo as Ana Sofia, Gabriela García as Nicole, Manuel Pacific as Oscar, Sian Reese-Williams as Jane, Richard Trinder as George, Mark Peachey as Officer Lee, ensemble, understudy Ramsey, understudy Donovan, understudy George and resident director, Fabiola Ocasio as ensemble, understudy Nicole and understudy Bianca, Hannah Ducharme as Bianca, ensemble, understudy Kenna, understudy Jane and dance captain and Pablo Gómez Jones as ensemble, understudy Oscar, understudy Tom and understudy Officer Lee.
Working alongside Read and Sheppard is choreographer Fabian Aloise. Also on the creative team are set designer Arnulfo Maldonado, costume designer Fay Fullerton and lighting designer Howard Hudson. Catherine Jayes serves as music supervisor, alongside sound designer Tom Marshall, musical director Patrick Hurley, video designer George Reeve, casting directors Annelie Powell CDG and Stephen Kopel, associate director Tania Azevedo, associate choreographer Paris Green, associate designer (US) Oscar Escobedo,​​ associate designer (UK) Verity Sadler, costume supervisor Laura Hunt, sound associate Callum Wills and Casting Assistant Alice Walters.
Update: Due to a copyright issue with third-party hosting, this video has been temporarily removed.