Hamlet (Royal Exchange, Manchester)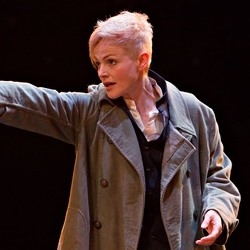 Maxine Peake and John Simm have more in common than starring together in the BBC hit, The Village. They have now played the same role of the Great Dane in Shakespeare's Hamlet.
Paul Miller chose to present the piece as a classic thriller at the Crucible four years ago and although many found faults with it, I thought it was one of the most vivid productions I had seen and Simm was outstanding. But the supporting characters were also played and drawn brilliantly.
Here, Maxine Peake does what you would expect – deliver a subtle and knowing performance and also manages to give the character a fresh feel which goes way beyond gender. Shifting about the set with eyes in the back of her head, she nails the distrust of Hamlet with ease. She also proves to be a credible fighter/lover and this fine actress has energy to burn.
The most striking thing about Sarah Frankcom's production though, is not the gender reversal, it's the way that iconic lines are delivered, lending the play a contemporary feel that matches the modern dress and also gives pace, where needed.
Gillian Bevan's Polonia, as opposed to Polonius, is the ace card here, as this actress has superb comic timing and a cynicism that matches Hamlet's. Her lines such as "This is too long" bring a wry smile and this is such a forceful performance that whenever she is off stage, you long for her to be written back in and given new scenes.
Barbara Marten's Gertrude is also as good as you would expect. She is majestic, yet scared for the future and her scenes with Peake have real fire.
The flaws of the production do become evident in the second half. Amanda Stooley's bare set design featuring a circular floor, whilst exposing for the actors, gives the audience no sense of the riches of the piece. It feels a tad pretentious and lacks the detail of the designs that the Exchange has become famous for.
Katie West's Ophelia is disappointing too, as by the time of the second act she descends into cliché, almost turning into a Kate Bush parody as she loses her grip on reality. I found these scenes almost comical when I should have been moved. West is a fine actress but she has nowhere to go, as the characterisation is one note.
John Shrapnel's Claudius and Ghost brings real gravitas to the piece and his booming voice keeps you totally focused on the text. But, as the characters fall into a pile of old clothes towards the end of the play, you cannot help but feel think that this production is not as fresh or original as it thinks it is.
Worth seeing for Peake and Bevan alone but the omission of much of the political machinations mean that it lacks the thrills and dogged determination of previous productions.
Hamlet is at the Royal Exchange Theatre, Manchester until 25 October 2014