Gypsy at Pitlochry Festival Theatre – review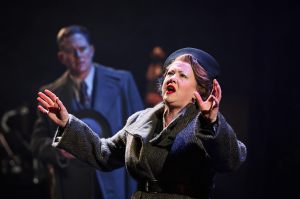 Broadway loves shows about shows as much as Hollywood loves movies about movies, and in the many examples of that genre, Gypsy packs a bigger punch than most. That's partly because it's grounded in true life: the story of Gypsy Rose Lee, to be precise. Indeed, composer Jule Styne, lyricist Stephen Sondheim, and book writer Arthur Laurents based their 1959 show on Lee's memoirs, which had been published just prior. However, it also exposes much of the dark underbelly of showbiz, giving an honest look at how much blood, sweat and failure goes into the making of most stars. Gypsy doesn't shy away from the broken relationships and financial disasters that litter the path to success, nor from the uncomfortable fact that most who set out on that path never make it.
There's a special treat for the audience in watching it because we're observing all this emotional churn from the comfort of our stalls seats as those in the know, and there's something equally delicious in watching the actors do it because we're (pretty much) observing a set of actors who've made it, putting on a show about the difficult path to success. Consequently Gypsy stands or fall on the strengths of its performances, and that's where this show at Pitlochry Festival Theatre really shines.
As so often at this theatre, nestled in the beauty of the Perthshire Highlands, it's the actors who make it worth seeing. This ensemble cast, who are in residence for the whole summer season, give their all to the first-class material with which they are working, and it's an exhilarating watch. The two leading ladies are particularly terrific. Shona White gives a powerhouse performance as Mama Rose, pouring all of her energy into theatre's ultimate pushy parent. The whiff of embittered failure is never far away from her performance, and you sense long before her final monologue that it's the thing that really drives her. She's a whirl of controlled energy all through the show, hard to take your eyes off while she's on stage. Blythe Jandoo is every bit as good as her daughter. She transforms herself on her character's emotional journey, from Louise's reluctant haplessness to the knowing sexuality of Gypsy Rose Lee's stage persona, and she takes to the final burlesque scenes so convincingly that it's like watching a different actress.
The rest of the cast are very fine, too. Patricia Panther is full of character as June, the "talented" sister, and Ben Stock's Herbie is likeable, perhaps all the more so for being so put upon and patient. The men of the ensemble all perform with bags of character, as do the girls of the burlesque troupe. They all double up as the show's musicians and make a great sound as the versatile stage band: I particularly loved the wheezy clarinet and the ballsy brass sound.
You'll need to look elsewhere if you want lavish scenery or eye-popping sets. Liz Cooke's designs are almost on the school play level of simplicity, but they're put to good use in director Ben Occhipinti's central idea of a stage within a stage, which revolves to allow all of the theatre scenes to unfold swiftly and clearly. Furthermore, the costumes for the burlesque dancers are a hoot.
They go for the happy ending, which is a pity in a show that looks so unflinchingly at the dark side of theatrical life. At least it sent the crowd out with unambiguous smiles on their faces, however; an outcome which I suspect might last right through the summer run.