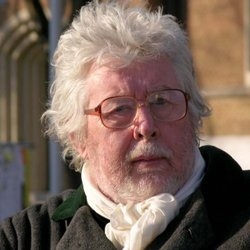 Covent Garden's second run of Birtwistle's Gawain in 1994 was met with protests in the streets, although they smacked more of publicity stunt than a genuinely populist uprising against the demands of contemporary composing. In the intervening 20 years the composer has come much more into the mainstream, likely now to be greeted with a standing ovation rather than a placard-wielding crowd of oddballs. He and librettist David Harsent duly received that at the end of this concert performance of the opera.
Birtwistle can now sell out in the opera house, as he did with two runs of The Minotaur at the Royal Opera House, a far cry from the meagre houses that The Mask of Orpheus played to for its one run of six performances at English National Opera in 1986. What has made the difference?
Perhaps new media has helped spread the word; even the composer, who is notoriously averse to technology, took part in a Twitter Q&A this week. Certainly there was a bit of buzz around this first major resurrection in London of the King Arthur work, an opportunity to see if it had stood the test of time and could stand alone from the stunningly visual production it had received at the ROH.
The BBC Symphony Orchestra, led by Martyn Brabbins, and a solid cast of vocal soloists worked tirelessly through a long and demanding evening, showing major commitment to the composer and his work. Leigh Melrose was a heroic Gawain, while John Tomlinson reprised his role as the Green Knight and the naughty ladies were played to the hilt by an impressive Laura Aikin (Morgan le Fay) and a richly contrasting Jennifer Johnston (Lady de Hautdesert).
Director John Lloyd Davies went as far as he could in approximating a staging, with attractive lighting, two giant screens carrying imposing graphics, decorative geometric shapes and gobos casting atmospheric shadows, while no expense was spared on the dry ice.
If there was a weakness it was that, despite all the work that had gone into it (I'm sure far more than for most concert stagings), a lack of space and ultimately of rehearsal time meant the actions were under-staged and resembled village hall play-acting, with awkward movements and generalised emoting.
The work itself came across as over-written and overly earnest (humour was never one of Birtwistle's strong points) and, to put it plainly, it went on a bit. Birtwistle and Harsent need reining in and the work, as played, is like a gigantic piece of granite that needs but resists shaping. Had they tackled three Sophocles plays, as Anderson and McGuinness are currently doing at the Coliseum, I fear we'd still be sitting there.
Nevertheless, this was a monumental evening for a work that deserves notice. It's a shame that lessons learnt during the initial run (the work was drastically revised between 1991 and 1994) seem to have been unlearned and a less reverential approach would have improved the experience.