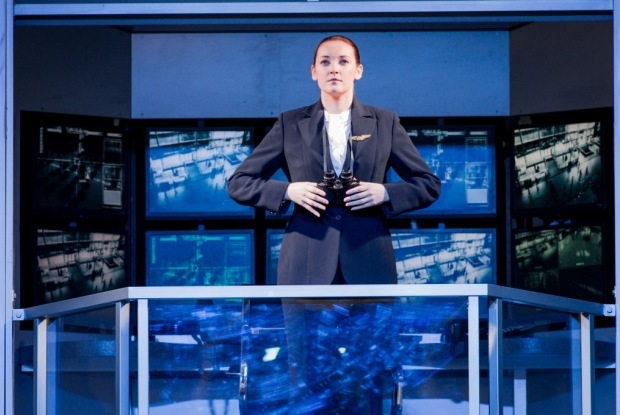 Holland Park has been littered with bad puns — and here comes another one — during its pre-Flight routine. Even the admission ticket is labelled 'boarding pass'. All of which will lead you to expect Jonathan Dove's opera to be a comedy, and indeed it is; but it's so much more besides.
In the passenger lounge of a bustling but impersonal modern airport (magnificently rendered in Andrew Riley's curved designs, all smoked glass and swishing lifts) the action homes in on five or six passengers. Bill and Tina (Jeffrey Lloyd-Roberts and Ellie Laugharne) are heading for a beach in order to rekindle their romance while an Older Woman (Lucy Schaufer) is looking for the younger man she met on her own holiday. Minksman and his heavily pregnant wife Minkswoman (Nicholas Garrett and Victoria Simmonds) have troubles of their own, and the Refugee (counter-tenor James Laing — astonishing) is constantly hiding from John Savournin's Immigration Officer.
There are secrets everywhere, except perhaps where they ought to be (a Steward and Stewardess, deliciously played and sung by George von Bergen and Kitty Whately, go at each other like rabbits, most memorably in a lift doorway), while seraphic but far from serene in her sky tower the Controller presides over the goings-on. That's a role in gold for the fabulous young soprano Jennifer France.
Anyone with half an eye on today's operatic talent will be saying 'what a cast', and you'd go a long way to find a better one. But what an orchestra too. The City of London Sinfonia has been enhanced to symphonic proportions for the show and Brad Cohen tracks a clear, confident route through Dove's elaborate and variegated score.
On the surface this 1998 work, first seen (and televised) at Glyndebourne but never till now professionally staged in London, is part sex farce and part soap opera. But there's a spiritual side to it too. April De Angelis's brilliant text deserves greater recognition than it generally receives: her ambiguous observer-pariah figure, the Refugee, is a transcendently operatic figure, even when passive, and his dramatic arc energises the entire evening. A couple of Dove's recent operas have been hamstrung by poor librettos; Flight is fuelled by a great one.
My gripe with an opera whose freshly tonal writing is never less than vibrant and gripping is that it's a musical hotch-potch: less a pastiche of other styles (although that case might be made) than insufficiently personal and apt to jump from mood to mood without the sense of an overarching voice.
But director Stephen Barlow believes in Flight absolutely, and his tremendous production makes the best possible case for it. It's an enormously complex project but he gets everything right from the knockabout stuff to the aching soliloquies and the devastating revelations. We laugh, we cry, we urge our friends to see it before it takes off for good. You'll be moved and amused and you'll love the lust.
There are futher performances of Flight on 12, 17 and 19 June