Educating Rita and Hudsucker Proxy in Liverpool Everyman spring/summer season
The Liverpool Everyman/Playhouse new season includes a major revival of Educating Rita to mark the play's 35th anniversary starring Leanne Best as Rita and Con O'Neil.
The Everyman season will begin with associate director Nick Bagnall's take on A Midsummer Night's Dream. The second half of the season is marked by two world premieres, both screen to stage adaptations; a never-before seen Arthur Miller screenplay The Hook at the Everyman and the first ever stage adaptation of a Coen Brothers' film will see The Hudsucker Proxy are being staged at the Playhouse.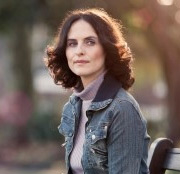 The production of Educating Rita, which runs from 6 February to 7 March 2014, will be the first to be staged professionally in Liverpool for 13 years.
Leanne Best (Ripper Street) returns to her home city to play the title role after more than a decade of successes on stage with the Everyman & Playhouse in productions including The Match Box, The Resistible Rise of Arturo Ui and Unprotected as well as A Streetcar Named Desire and The Hypochondriac.
Frank is played by former Everyman Youth Theatre member Con O'Neill (Telstar, New Ambassadors Theatre & Aspiration Films; Uncle, BBC). O'Neill is no stranger to Willy Russell's work, winning an Olivier Award and Tony nomination for Blood Brothers and starring in Dancin' Thru the Dark, the film adaptation of Russell's Stags and Hens.
The Everyman will celebrate its first birthday with a Shakespeare production, A Midsummer Night's Dream, directed by new Associate Director Nick Bagnall. This production will include the first autism friendly 'relaxed' performance of a Shakespeare by a regional theatre.
The Playhouse will play host to the world premiere of The Hudsucker Proxy, a new stage adaptation of the classic 1994 Coen Brothers' film. It has been adapted by Simon Dormandy and will be co-directed by Dormandy and Toby Sedgwick (War Horse, The 39 Steps), in a co-production with Southampton's Nuffield. Set in 1958, the plot puts big business and corruption under the microscope, as the board of directors of Hudsucker Industries attempt to take over the company and make a killing on the stock market.
Amidst the political tensions of 1950s America, Arthur Miller's The Hook was suppressed by the FBI for fear that it could cause unrest in New York's dockyards. To mark the centenary of the Pulitzer Prize-winning playwright's birth, Liverpool Everyman & Playhouse and Royal & Derngate, Northampton will co-produce the world premiere of Miller's 'play for the screen' adapted for the stage by Emmy Award-winning Ron Hutchinson (Moonlight and Magnolias, Tricycle; Rat in the Skull, Royal Court), directed by James Dacre.
The season also features Headlong's The Absence of War, Out of Joint's Crouch, Touch, Pause, Engage, 20 Stories High's new play, Black, Birdsong and The Boy in the Striped Pajamas.