Edinburgh Fringe Q&A: Sally Cookson on Birthmarked – "The improvised feel is crucial"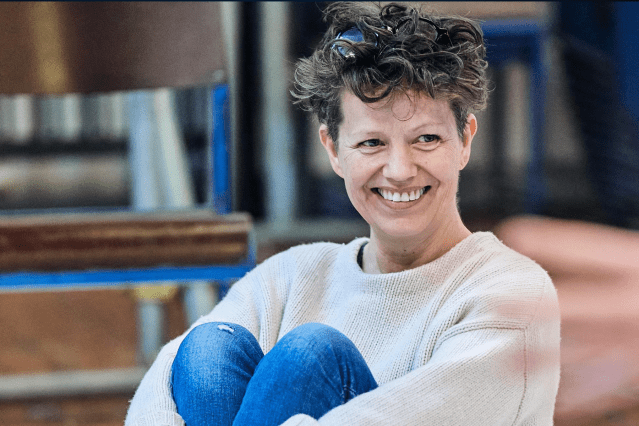 Your work has tackled giant grief monsters, mythical lions, Peter Pan – what kind of challenge does Birthmarked present?
Working on Birthmarked has been challenging in very different ways to the ones I'm used to. First and foremost, the story is a personal one, based on Brook's real experience of growing up in the Jehovah's Witness community and I've never directed a true story before. I was mindful of how the process of unpacking Brook's story during rehearsals and then performing it each night could potentially be emotionally demanding for him and the band. We made sure there were strategies in place to support the company. I felt a huge responsibility to serve Brook's vision for the piece but also ensure it had form and narrative cohesion. Working predominantly with musicians rather than actors also involved a different approach.
How did you first meet Brook, and what stood out about his work?
I think the seed for this show was planted in Brook's mind many years ago. We met in 2018 when Brook was part of young theatre making collective 'Made In Bristol', run by the Engagement department at Bristol Old Vic. I was struck by Brook's passion and irrepressible energy and charisma, not to mention his talent. We met up and talked ideas. His story was such a fundamental part of him, and he was always discussing aspects of it with people around him. I happened to be preparing for a two-week residency at the National Theatre Studio to explore ideas based on actors' own stories. I invited Brook to participate. During the first week, Brook shared his story with the group and we were all transfixed. The second week never happened because we got sent home prior to lockdown. However, during the pandemic Brook began to write his story and in 2021 he gathered his band together. Over two nights in a pop-up theatre tent on the Downs in Bristol he improvised his way through the material he'd written and composed, and Birthmarked was born. I watched the three-and-a -half-hour extravaganza and was gobsmacked by its beauty, joy and the improvised messiness of it all.
The events of Brook's story are profoundly moving, and his bravery at standing up in front of an audience to tell it is one of its great strengths. But what makes Brook's work so thrilling is his ability to take the audience on a theatrical and imaginative journey that could only be thought up inside his head, he's a true artist.
How did the show develop from there?
I spoke to Brook about it and approached the NTS to see if we could finish the residency we started and use it to develop Birthmarked, which we did. Ben Attenbury, Bristol Old Vic's new work producer, Kate Yedigaroff, Matthew Austin from MAYK and producer Hannah Smith all came on board to ensure Birthmarked was part of MAYK's festival in May '22. And here we are, getting ready to take it to Edinburgh as part of the Horizon showcase, which we're all very excited about.
Can you run through your history with the Edinburgh Fringe?
I've attended the Fringe as a punter many times. Thirty-five years ago I travelled up on my own and watched 15 shows over two days and stayed in student accommodation which was cheap. I'm lucky now to have family living in Edinburgh so I get free digs. I directed a show for the Fringe back in 2010 based on Michael Morpurgo's adaptation of Aesop's Fables for Scamp Theatre, which toured Australia and New Zealand as a result of its Edinburgh outing.
Music has always been a vital component of your shows – how is it utilised here?
Songs composed by Brook throughout his life, written as a way of understanding and reflecting on his past within the Jehovah's Witness community and his route out of it are the lifeblood of the show. When Brook first arrived in Bristol and formed a band, the musicians around him became his new family. Eva, Tom, Sam followed by Eddie and then Junior have been with him from the start of his new life and their respect and love for each is palpable in their playing. We are looking forward to welcoming fabulous Bristol based musician Sam Fox into the Birthmarked band and wishing Junior much luck with the show he is performing in with Derren Brown.
Can you explain what the theatrical form of "concept gig" offers you as a director?
I'm not sure I understand the term 'concept gig' – but one element of Birthmarked's form that I enjoy is the relationship between Brook, the band and the audience. There is no fourth wall. The audience's presence is acknowledged, the connection Brook builds with them is key to the experience. I also enjoy working with performers who are not 'acting', everyone on stage is being themselves – even Eva who becomes the character of Gayle the Whale is still being herself.
And I enjoy the challenge of making sure the story is moving forward and all the important narrative beats are landing. It's easy sometimes in a show like this which has such an improvised feel to get distracted by something the audience does and veer off the path for too long. It's a fine balance between remaining present and responding naturally and keeping the show moving forwards.
Brook describes his work as 'semi-improvised' – how is it directing and anticipating that?
As mentioned in my previous answer, keeping the story from derailing is one of the things that I'm responsible for. Brook is a genius at riffing and chatting with the audience about anything and everything. The improvised feel is crucial and audiences enjoy Brook's skill as a raconteur, it would feel contrived if the script was exactly the same every night. But that can sometimes mean the length of the show gets longer and longer. We have a tight time frame to adhere to in Edinburgh, so we will have to be very strict about not running over!
How do you feel the landscape has changed for emerging creatives, especially those looking to cut their teeth at the Fringe?
The cost of hiring space and finding cheap accommodation are the two biggest challenges for emerging creatives at the Fringe, but everything in Edinburgh becomes more expensive during the month of August because the festival attracts so many tourists. Out of interest I looked at the cost of hiring accommodation in student halls (which is what I did many years ago) and in Edinburgh during August it's £59 per night (compared to £36 per night in Glasgow). Travelodge hotels in August have an even larger discrepancy – Edinburgh is £322 per night compared to £99 in Glasgow.
What are you most excited to see when up at the Fringe?
I haven't done my research yet but want to catch Lucy Mccormick's Lucy and Friends, Jade Anouka's Heart, and Nat McCleary's Thrown.
Birthmarked is at Assembly Rooms from 3 to 27 August (not 8, 20)