Did critics think Waitress in the West End was a recipe for success?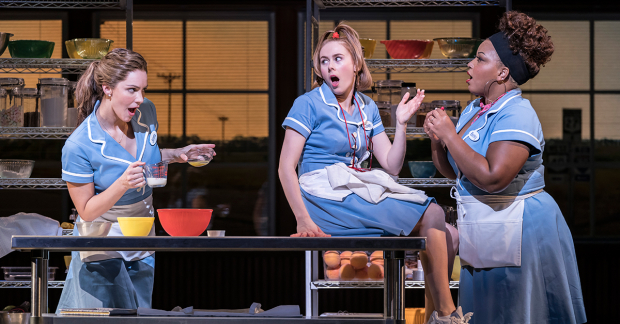 ★★★★
"Waitress is an odd concoction – just like one of the pies its heroine bakes, to sum up the contradictions of her life…it takes its wild ingredients and mixes them together to make a strangely satisfying and charming show.
"Katharine McPhee is undoubtedly one of the reasons to go to see Waitress. Her pure, powerful voice lends heft and passion to songs such as the confessional "She Used to Be Mine" and complexity to her constant musings on baking.
"While Sara Bareilles may not have Sondheim's sophistication as a lyricist, she manages to write songs about waiting for a pregnancy test, not wanting a baby, abusive husbands and messy love lives with some style."
"All in all, Waitress is a treat. You can buy the recipe book and sample pies in the foyer, but even without them it leaves a pleasantly sweet taste in the mouth."
★★★
"Initially, the show struck me as raucous and improbable. Bareilles' lyrics often get lost under an over-loud onstage band and I couldn't wholly believe in the plight of the pregnant protagonist, Jenna, a waitress and classy pie cook in a typical American diner…But I found myself warming to Jessie Nelson's book and to the vigour of the songs.
"The performances, in Diane Paulus's lively production, are very much part of the show's appeal. Katharine McPhee, from the original New York cast, endows Jenna with a vulnerability, kindness and inbuilt sadness that only finds release in her extramarital fling: she also delivers her big climactic solo with real verve."
"….a show that has a fair share of schlock but a genuinely warm heart."
★★★★★
"This musical took me by surprise: I expected something much less touching, gritty and moving. It has heart (not to mention pastry) to spare and Katharine McPhee's voice has the lilt and lift that takes you away from yourself. She is woman, hear her soar. At times, especially in the second half, in the lament "She Used to Be Mine", she seems to lift the roof off."
"This is one for the XX chromosome brigade, a grown-up Legally Blonde. The male characters are a bit shallow and cartoony and the women, particularly Jenna and her two waitress friends Becky and Dawn, have almost all the good lines. The exception is the hilarious man disaster who is Ogie, played with limbo-loosening panache by Jack McBrayer of 30 Rock fame."
"What a crew they are. There is not a weak link in the cast."
Andrzej Lukowski Time Out
★★★
"Most of the pies in Diane Paulus's Broadway-conquering show are allegorical: their lurid lists of ingredients are flights of fancy in the mind of Katherine McPhee's titular heroine Jenna, a pie-making prodigy who dreams of escaping her abusive marriage."
"Adapted from Adrienne Shelly's cult 2007 indie flick of the same name, Waitress is a moving musical full of flawed, morally compromised characters of the sort you so rarely get in this type of glossy Broadway show. Everyone, on some level, lets us or themselves down: indeed, the big showstopper, "She Used to Be Mine" – delivered with exquisitely controlled sorrow by McPhee – is Jenna's bitter ode to her disappointment in herself."
"But then there's also the *other* Waitress. The silly Waitress that desperately wants you to have a laugh, and not let the serious 'Waitress' harsh your buzz. That Waitress features a pie-based cunnilingus scene, a Civil-War-reenactment-based cunnilingus scene and the alarming light relief characters of Dawn – a nerdy waitress – and Ogie, the hyperactive loon who courts Dawn throughout the show."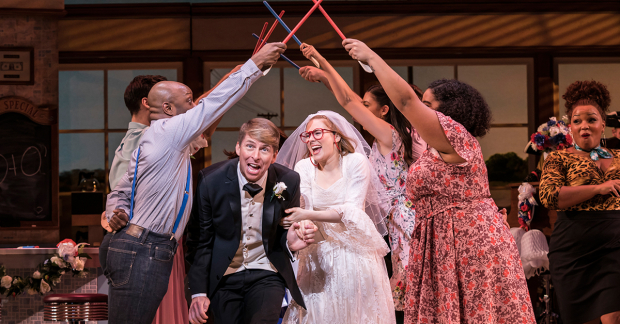 ★★★★
"This is both a romcom set in the workplace and a feminist drama in which the protagonist makes painful progress to the belatedly assertive moment when she boots out her smugly abusive husband (he takes it for granted that her tips belong to him and seizes automatic control of them as if he were her pimp). "
"Admittedly, there are moments of discomfort but it says a lot for the fast sass and wonderful take-it-or-leave it silliness and the occasional sugar-free sequences in Jessie Nelson's deft book that the spot-on cast in Diane Paulus's production mostly manage to give these elisions an elating good humour and humanity. "
"The songs grew on me; they are in a pop idiom over an intricately figured rhythmic floor (one of these reminded me strongly of the Batman theme). It's as if their staying power feels as if it's being epitomised to the point of satire in the number "Never Ever Getting Rid of Me". This latter is sung by the hilarious Jack McBrayer as Ogie."
★★★★
"On top of that is the music by the many-times Grammy nominated singer-songwriter Sara Bareilles: perfectly constructed pop songs with a conversational feel, full of piano-driven riffs and jam-packed with baking metaphors. Bareilles is the consummate queen of hooks. Every song is instantly singable, each with beautifully melodic tunes full of unexpected intervals."
"In fact there's a very fine line between the moments when [Katharine McPhee's] performance conjures a Jenna whose life has pulled her inside of herself – a patient, forbearing, passive woman, full of restraint – and sliding into bits where she just comes across as blank and expressionless.
"Paulus very skilfully directs the scenes with husband Earl (Peter Hannah). The threat of violence is always latent, but only barely displayed. We don't need to see physical violence to recognise an abusive, coercive, incredibly toxic relationship."
"The ending is conveniently swift and certain, resolving many its problems with a dusting of sugar. But the show is never too sickly sweet not to have serious points to make, and to make them forcefully."