Design for Murder (tour – Stevenage)
We're in the very comfortable living-room of a house in the countryside adjacent to a town. It has a large garden, but Moira wants something even grander, wih staff and – of course – a large-custom-built studio where she can work on her abstract paintings.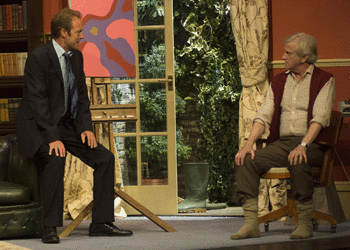 These are not actually very good, for Moira is a lady who dabbles. Just now her alternative interest is husband Clive's business partner, a sharp bit of work called Philip. Clive has inherited his company and prides himself on its high level of craftmanship and the reciprocal loyalty between him and his workforce.
Not that Clive is himself a model of rectitude. With Philip aggressively promoting a take-over bid – which sounds like a brisk bit of asset-stripping – Clive resorts to devious tactics to hold onto his company. And his wife.
One of these tactics is to produce his previous wife Jane, a lady he never actually got round to divorcing before marrying Moira. Only… but if you can't guess what happens next, and then after that, you'll have to find out for yourself.
Paul Lavers is very good as Clive, creating a thoroughly credible three-dimensional character. Peter Amory matches him as Philip, a man so much on the make that you know he's going to get his comeuppance later if not sooner.
Carly Nickson is the selfish Moira, the sort of woman who thinks that dressing the part automatically confers artistic status. Bridget Lambert plays Jane, who turns out to be just as two-faced as everyone else on stage. It does all sag a bit during the final scene though Lavers in particular keeps the momentum going up to a somewhat peculiar ending.
Design for Murder is at the Gordon Craig Theatre, Stevenage until 20 September as part of a national tour.