David Baddiel's Infidel short on believers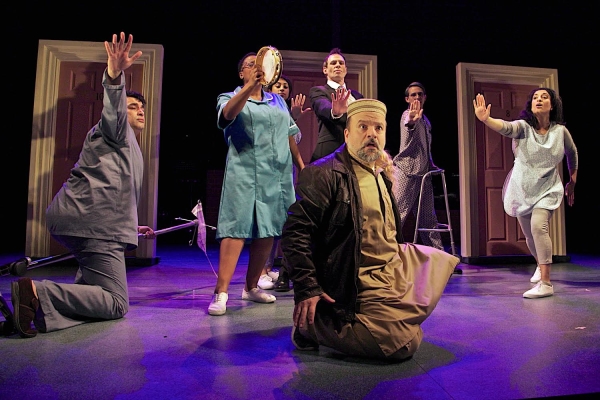 Emma Watkins

WhatsOnStage
★★
The Infidel – The Musical is a stage adaptation of the 2010 movie written by David Baddiel… It tells the story of Mahmud Nasir (amiable Kev Orkian), a moderate Muslim facing a religion-based identity crisis… The show is full of religious stereotypes which could have been used to create intelligent or ironic humour (it's an obvious comparison, but The Book of Mormon, anyone?) but which are mostly used for lazy, clichéd laughs… One exception is a song that presents the burqa as a way for a woman to tempt her Muslim man- this is accompanied by some satisfyingly sassy disco choreography…Musicals live and die on the strength of their songs, and the songs here (music by Erran Baron Cohen) are a scattergun of styles and largely unmemorable… Whilst well-sung by the cast, the lyrics by Baddiel are disappointing, and not especially funny… Rhyming Allah with fatwa, and Qur'an with Sudan doesn't take much imagination… There are too many moments where the words feel awkwardly crowbarred in to fit the music.
Mark Shenton

The Stage
★★★
Baddiel boldly takes on the subject of religious difference and intolerance between Jews and Muslims, and even portrays a "weirdy beardy" fundamentalist preacher with comic precision and provocation… This is no sledgehammer satire… The show has an amiable, warm-hearted sincerity that means it is unlikely to cause offence… It is also beautifully held together by the effortlessly charming Kev Orkian as the challenged Mahmoud, and some spirited supporting performances that include Melanie Marshall in various roles, Gary Wood as Mahmoud's son and Andrew Paul as his Jewish neighbour Lenny, a taxi driver who acts as a guide to his newly discovered heritage… Erran Baron Cohen's score is serviceable rather than memorable, and the show feels somewhat over-extended (running an hour longer than the original film)… This is an appealing new British musical with heart and serious points to make… It may lack polish, but makes up for it with punch.
Ben Lawrence

Daily Telegraph
★★
David Baddiel's ribald, subtle-as-a-hog-roast-at-a-Jewish-Wedding comic musical tells us that bigotry is futile… Based on his 2010 (non-musical) film of the same name, Baddiel has clearly gone for the broad, crowd-pleasing approach, attempting something that is a jarring mixture of heart-warming Full Monty-style crowd pleaser and provocative gross-out, designed to appeal to fans of The Book of Mormon… It sounds like a canny idea but there is a problem with Erran Baron Cohen's unmemorable, repetitive score and David Baddiel's exhaustingly provocative lyrics… The musical numbers work much more effectively when they stop dealing with racial stereotypes and, instead, focus on the personal… It's just a shame that such good intentions are clouded by lazy writing which relies far too heavily on racial stereotyping for laughs.
Dominic Maxwell

The Times
★★★
The cast is a delight… The blokey, big-voiced Kev Orkian is a ball of comic energy as Mahmud… Andrew Paul is endearingly abrasive as Lenny… Alexander Andreou is hilarious yet imposing as the smoothly sanctimonious preacher… The rest of the cast switches sharply between ethnicities whose similarities and differences alike are satirised and celebrated… It's an entertaining, at its best liberatingly bold evening whose only real bugbear is intolerance, be it from a "beardy-weirdy" Muslim or a judgmental rabbi… All that's missing is a bit more quality control… I can't help feeling that Baddiel and Baron Cohen and [Arvind] David, who all worked on the film too, needed a stronger outside voice to complete this story's journey from film to musical theatre… With a bit of pruning here, a bit of sharpening there, this could really be something.
Tom Wicker
Time Out
★★★
Adapting his own 2010 film, David Baddiel's comic tale of culture clash probably works better as a musical… There's more smile than snarl here, and a heart-warming ending to Mahmud's exploration of his identity… Although the show's crammed with topical jokes, its teeth aren't sharp… This is knockabout satire… Such colourful meta-theatrics take the edge off the show's creeping sentimentality and keep it bouncing along through its too many songs, with Erran Baron Cohen's music varying from funny pastiche to forgettable… The script gleefully sends up ridiculous religious clichés…From Alexander Andreou's boo-hissable cleric, Arshad, to the sitcom-style shenanigans the characters get up to, you'd have to strain to be offended by this… Although fun, it's soft-soaped too often – sniggering when it needs to bite… With the real world so sadly short of happy endings right now, the fairytale one here feels welcome.