Colin Morgan, Ralph Fiennes and Sophie Okonedo announced in new National Theatre season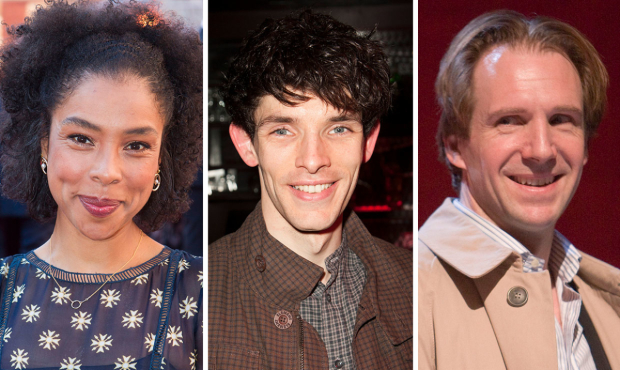 The National Theatre has announced details for several productions in 2018, including a new version of Eugene Ionesco's Exit the King, a production of Brian Friel's Translations and the ambitious The Lehman Trilogy overseen by Sam Mendes.
On top of this, Ralph Fiennes and Sophie Okonedo will star in the titular parts in Shakespeare's Antony and Cleopatra from September 2018, directed by Simon Godwin. Okonedo was last at the National in 1999, while Fiennes appeared in Man and Superman in 2015. An NT Live screening of the show is also planned.
In May, Colin Morgan will star in a new production of Brian Friel's Translations in the Olivier, directed by Ian Rickson. One of Friel's best-known works, the play is set in 1833 in rural Ireland, where the British Army is attempting to translate all the Gaelic place names into English. It will have designs by Rae Smith, lighting by Neil Austin and music by Stephen Warbeck.
Sam Mendes returns to the National Theatre in July 2018 with Ben Power's new adaptation of Stefano Massini's The Lehman Trilogy in the Lyttelton, based on investment bank the Lehman Brothers from the mid 19th century onwards.
Artistic director Rufus Norris said: 'It was a play first performed in 2013-14 and caused a stir – people were complimentary about it. It has been produced all over Europe, but this is its English language premiere. It's in three parts, a trilogy in one night; dealing all the way through to 2008. It was actually Sam who saw the show, loved it, and came to us to see if we could do it.'
The Olivier will host a new adaptation of Ionesco's Exit the King in July, adapted and directed by Patrick Marber. The cast will include Rhys Ifans and Indira Varma, with Ifans playing the 400 year-old King Berenger and Varma his Queen.
In August, Chris Bush will adapt a new version of Shakespeare's Pericles, directed by Emily Lim. The show will have choreography from Imogen Knight and music by James Fortune. The show will feature a large community ensemble alongside a cast of professional actors. Pericles is part of the National's new initiative Public Acts, where the venue works alongside community organisations.
Over on the Lyttelton stage, Joe Hill-Gibbins will direct a revival of Rodney Ackland's Absolute Hell in April 2018. Rodney Ackland's play, set in a desolate post-war Soho, will be designed by Lizzie Clachan.
In June 2018, Polly Stenham will adapt Strindberg's tragedy Miss Julie with a modern twist, renamed Julie. Carrie Cracknell will direct Vanessa Kirby in the production.
Autumn 2018 brings David Hare's new play I'm Not Running to the Lyttelton, based on the converging politicism of everyday life and how to do good within political institutions. While a fictional piece, it will be grounded in real life circumstances. The show will be directed by Neil Armfield, in what will be his first directorial offering at the National.
Indhu Rubasingham will return to the National Theatre to direct The Great Wave on the Dorfman stage in March 2018, in a co-production with the Tricycle. The show, set in Japan and North Korea, sees two sisters struck by a giant wave.
Laura Wade makes her National debut with Home, I'm Darling, a comedy about sex, cake and the quest to be the perfect housewife. The production will star Katherine Parkinson. The show also sees a National directorial debut for Tamara Harvey, artistic director of Theatr Clwyd, in what will be a co-production with the Welsh venue.
In April, JMK Award-winner Roy Alexander Weise directs Natasha Gordon's debut play Nine Night, an exploration of family life in West Indian cultures. Cecilia Noble will star.
Ned Bennett's satire An Octoroon will transfer to the National Theatre in June 2018 after a critically acclaimed run at the Orange Tree Theatre earlier this year. The Dorfman will also see a youth production of The Winter's Tale, directed by Justin Audibert, accessible to Shakespeare novices.