Chewing Gum Dreams (NT Shed)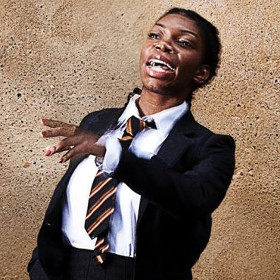 Michaela Coel began writing Chewing Gum Dreams while a final-year drama student at the Guildhall, calculating she'd have a better chance of being noticed in a short, one-woman play, than accepting small parts in the big end-of-year shows.
It was a shrewd move. An expanded and refined version of the piece, directed by Nadia Fall, has just opened at The Shed, at the National Theatre. It runs until 5 April.
The Shed is familiar territory for Coel, who delivered a standout performance as part of the ensemble in Blurred Lines, Nick Payne's merciless dissection of gender inequality. She also contributed poetry to that show, and her lyrical gift is given full rein in Chewing Gum Dreams.
She plays Tracey Gordon, a scarcely disguised version of her own 14-year-old self – one of those "loud, annoying girls on the back of the bus" that send so many passengers scuttling back down to the bottom deck. The role is written with great affection for Tracey's in-your-face toughness, as she freeflows her way through observations on the life of a Hackney teenager, at turns hilarious and horrifying.
Coel brilliantly captures the brutal cruelty of the taunts girls fling at each other, and doesn't shy away from conjuring up some truly extraordinary sexual imagery.
Lighting by Jamie Spirito and sound by Mike Walker help to create depth in an open space with only a single chair as a prop. Coel sits, slouches, runs, dances and strips on the spare, exposed set with a fierce energy that makes for a compelling 45 minutes.
She is a wonderfully fluid performer. Tracey is her star, but she also creates the vicious Aaron, vulnerable and trusting Candice, and – pity the poor woman – Tracey's maths teacher.
A feisty and complex heroine, Tracey says, "I'm smart enough to know I'm no one". She's resigned to falling into the cracks like everyone else in her family. But she survives rejection and learns how to stick by the one person she truly loves.
She may be a dramatic creation, but Tracey is also a way for Michaela – clearly moving on to much greater things – to hold on to something of the person she was back in those Hackney days.