Catherine Love: Surprising spaces and blurred genres at Latitude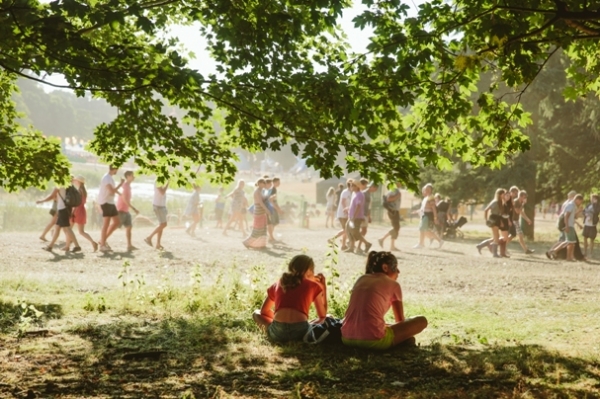 Figures walk on water, spraying sparks into the thickening darkness. In a tent in the forest, strangers share secrets, while the shed across the path is bursting with stories. And as music drifts over from the main stages, blindfolded festivalgoers are immersed in an altogether different kind of sound.
In the fields and woods of Latitude, which has just finished for another year, audiences stumble across theatre and performance in spaces of all shapes and sizes. While the large theatre arena hosts performances from the likes of the Royal Shakespeare Company and the Royal Exchange, more intimate and surprising theatrical encounters sprawl across the festival site. The Shed of Stories is exactly what it sounds like, offering little slices of narrative in the cosy surroundings of a wooden shed, while the Faraway Forest has performances at every turn – including a busy programme curated by the brilliant Forest Fringe.
The other fascinating aspect of Latitude's performance line-up is its smudging of the boundaries between art forms and genres. Simply by moving from theatre to poetry to music as an audience member, the shows on offer are seen in a different context. I see a performance of material from Christopher Brett Bailey's extraordinary This Is How We Die, for instance, in the light of a discussion in the literary tent about dystopian and post-apocalyptic fiction; Phoebe Waller-Bridge's ferociously funny Fleabag has never seemed more like stand-up comedy, while the Kate Tempest play Hopelessly Devoted moves progressively away from theatre and toward gig.
"The other fascinating aspect of Latitude is its smudging of the boundaries between art forms and genres"
Latitude favourite Tempest is a master of blurring genres, as she demonstrates this year with a typically storming performance that combines poetry and music. Mark Thomas, meanwhile, mashes up comedy, storytelling and theatre in his latest show, a fiercely galvanising look at activism and surveillance. His true story of undercover deceit and betrayal also intelligently brings together the personal and the political, another feature of much of the work at Latitude this year. And Forced Entertainment make their Latitude debut with perfect festival fare, as Void Story slots together elements of the radio play and the graphic novel in a beguilingly strange multimedia tale of disaster upon disaster.
The festival is a fleeting place, a different but fragile world created for just a few short days. But I wonder if there might be something in the framing of these and countless other performances that could extend into the world beyond the woods. The sheer variety of Latitude is its greatest strength as a festival, offering audiences everything from yoga to knitting to late night parties in the forest. In doing so, it exposes many of the barriers that we erect between art forms as essentially false, instead celebrating culture in its many hybrid forms and allowing those forms to speak to one another. Can't we embrace that same variety away from the fields and on our stages?