Bryony Lavery on Brighton Rock and Frozen: 'So many people have sung "Let It Go" to me'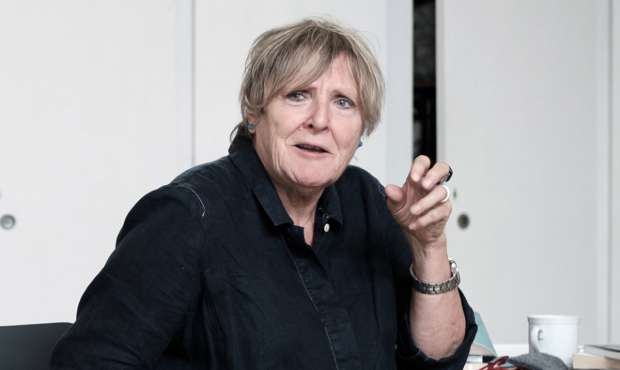 Next week is a busy one for Bryony Lavery. First of all, her 1997 play Frozen is being revived at Theatre Royal Haymarket with a cast including Suranne Jones, Jason Watkins and Nina Sosanya. The play is about the arrest of a paedophile and murderer Ralph (Watkins), as well as the life of the mother of one of Ralph's victims, Nancy (Jones).
The very next day, her new adaptation of Graham Greene's 1938 novel Brighton Rock, in collaboration with Pilot Theatre, opens at York Theatre Royal ahead of a lengthy UK tour. Greene's novel follows juvenile gang member Pinky and his destructive romance with Brighton waitress Rose, as well as the attempt by local resident and vigilante Ida to avert tragedy.
We discussed both projects with Lavery, as well as her reflections on the state of modern theatre, especially with recent sexual harassment scandals and an industry-wide push to provide more roles for women on stage.
---
Starting with Frozen, can you describe the piece for those who don't know it?
Frozen is a big story with a small cast and a deeply heroic woman at the centre of it. It goes into the worst and furthest recesses of the criminal mind by following the paedophile Ralph, but then is also about how people can be inherently good, especially Nancy, the mother of one of Ralph's victims. And this version is performed by a Rolls Royce of a cast with Jason, Suranne and Nina, they just fill the Haymarket.
The show is celebrating its 20th birthday, do you think its significance has changed?
Everything that it is about is going on now. The rehearsal desk was piled high with books about the subject, more books than I had when I first wrote the play. I spoke with one of the criminology experts who is consulting on the revival and asked him if it had stood the test of time, he said "oh gosh, yes." Listening to Jason, Nina and Suranne, it just seems to leap off the page.
Given the subject matter, was it a difficult play to write?
In rehearsals the other day Nina asked me "what are you putting us through Bryony?". But somehow it all just worked, I somehow just understood how to write about the issues, especially with Ralph. I don't know how I managed it – I just seemed to know his components well. There was one very tense scene between Nancy and Ralph, and people asked me how long it took to write, but it only took about 20 minutes.
Have you been hands-on with this revival?
Part of me really wanted to stay away from the rehearsal room a bit because the subject matter is a dark place to go. I did all the research back when I wrote the play, so this time the actors and director are the ones being visited by the experts and doing the reading. I think what they learn will really have a big impact on what they perform.
Now onto Brighton Rock, what drew you to writing a new adaptation of such an iconic novel?
It was Esther Richardson, artistic director of Pilot Theatre, who first asked me if I'd read the book because she really wanted to work with me. I'd read it 'hundreds' of years ago, but when I re-read it I just thought "oh gosh, it's really good".
For the uninitiated, what is Greene's book about?
The book, for me, is one of the best depictions of teenage spirit. At the heart of it, there's a virtually sadomasochistic relationship between the innocent and romantic Rose, and this wonderfully terrible stinker Pinky. Then there's Ida, this heroic figure who is trying to expose Pinky's crimes. Ida isn't exactly Luther. But she's pretty close.
How have you approached adapting the text?
I've not gone from any of the film adaptations and just relied on the book. I've used very little of my own words because Greene himself is just really good. What I think I've done is pruned and shaped the piece. The characters and the way they speak is very clear, they have a very particular tang so that actors can do a lot of nice acting. Everybody who has read this version says that it is very sparse.
What can audiences expect when they watch the show?
It's going to be very stylish and fast moving! We've kept it in the period, but musician Hannah Peel, who is adding the 'cool' to the show, played and riffed on instruments while we tried movement with the actors during rehearsals. It was the beginning of a very distinct physical style. By keeping it in its time but with a modern twist, it'll be an extraordinary and exciting thriller.
Having central female roles has been a major part of your work, what have your thoughts been on events of the last year?
It's always been a mission statement of mine to create iconic roles for women. It's not a chore because the world is full of fantastic female actors. But I feel that the world is finally catching up with me – I've been reading about the change in Hollywood and I love that it's happening, but the fact it took until 2018? Come on.
What changes do you want to see?
I would love to see a huge change in the stories we get shown – at the moment young performers do projects in college or in training that stretches them, and then they come out into the real world to see their horizons hugely narrowed. A big part of that is having female producers, it was exciting for me that Suranne has said she is going into producing work.
We can't go without asking, have you seen Disney's Frozen?
I can't tell you how many friends and acquaintances have sung "Let It Go" to me and talked to me about it –the 'nice version' of Frozen. But I haven't seen the film. I might watch it after the shows have opened as a relief. And I can watch the Brighton Rock film now too!
---
Frozen runs at Theatre Royal Haymarket from 20 February to 5 May, with previews from now. Brighton Rock will open at York Theatre Royal from the 16 February to 3 March and then tours to Brighton, Colchester, Hull, Cheltenham, Winchester, Watford, Birmingham, Newcastle, Mold, Derby and Salford.