Brief Encounter with … Duet For One/Separation's Clare Foster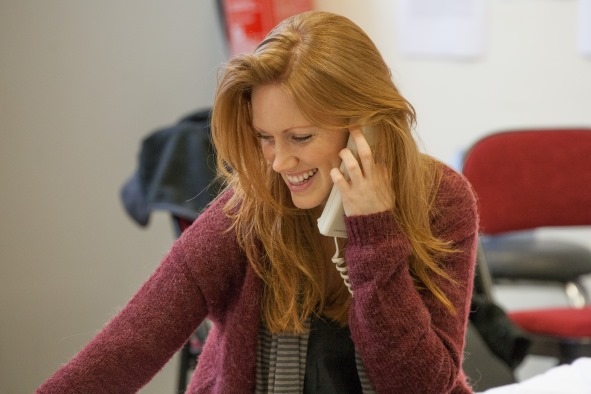 You've performed for the Octagon before a few times now. What do you like about the company/venue?
Yes, I was here a few years ago, doing A Streetcar Named Desire and Love on the Dole and feel very excited and honoured to be back. There are many reasons why I fell in love with the Octagon. I love this space; how versatile it is. I love and appreciate the local support and relationship the theatre has with its community and the knowledge of the importance of that support but most of all I love the work. David Thacker and Elizabeth Newman share the same work ethics in the fact that it's all about the work. There are no gimmicks. No big budgets or celebrity casting, nothing to hide behind. It's all about lifting a script from a page, telling the story with truth and reaching an audience in its purest form. That's what I love most.
What attracted you this time?
There were so many reasons. Firstly, they are two astonishing and very human plays. I think Tom Kempinski is an utterly incredible playwright. Both plays capture such heart and that is something I am always drawn to. I also had done a two hander, Oleanna, before with Alistair (McGowan) and had really enjoyed the experience. I love that tennis match aspect between two characters on stage, I find that really thrilling. This is the first time that these two plays have been performed together with the same cast too, so that is also really exciting! Also, I had seen Rob Edwards, my cast mate, do various things and had always wanted to work with him and knew he was attached. The main pull though was our incredible director Elizabeth. I'd seen Elizabeth's work before and admired it greatly. She is an extraordinary woman, who I grow more in awe of every day actually and from the moment we spoke about it I knew we were on the same page about how we work and what we wanted to achieve.
You are known for musicals due to the success of Crazy for You and Merrily We Roll Along recently. Is it nice to do some plays again?
It is incredible! I actually see myself as an actress first and foremost anyway, though of course it is all the same thing! I love the freedom that comes with doing plays though. I love that I can change how I say a line every night depending on how I'm feeling in the moment. You are responsible for honouring so many peoples' work, with a musical you want to sing it properly for the composer and the MD/band; you want to dance it to perfection for the choreographer to display their vision etc. I love that I am able to just live in these women in the moment without having to step outside yourself to check anything.
What do you think is the biggest misconceived perception about regional theatre?
I think there is such a fascination with the West End and the big tours that sometimes regional theatre can be overlooked and not seen to be of an equal standard. Some of the most wonderful things I've seen have been in regional theatres in fact, certainly the most moving experiences have been. Of Mice and Men at the Octagon for example was one of the most haunting and beautiful pieces of theatre I've ever watched.
How important you think regional theatres are to the UK from your perspective?
I think it is absolutely invaluable. It's regional theatre that can bring communities together and can reach local people that may not want, or be able to travel to theatre further away. It also inspires young actors to get involved in something that may otherwise pass them by. I am also a firm believer that theatre can be an experience that takes people on a journey where we question our own actions, thoughts, choices, and relationships, if we are doing our jobs right. That too, is invaluable about the arts generally.
Tell us about both your characters?
In Duet for One I play a lady called Stephanie Abrahams, who is based on the famous cellist Jaqueline Du Pre, though Stephanie played the violin. We discover pretty immediately that she has recently been diagnosed with Multiple Sclerosis and I spend the majority of the play in an electric wheelchair. Her real disability though, is her mental and emotional struggle and through the course of six sessions with her psychotherapist we follow her battle to find something else to live for now her love, 'where she lives', her music, has gone.
Separation is the story of a young American actress, Sarah Wise, who has a series of telephone calls with the writer of the play she wants to perform in, Joe Green. It is a beautiful play with a lot of charm and is very witty. It's kind of like a good rom-com really!
Duet for One is a very moving play. What would you like audiences to take away from it?
I always think that I want audiences to take whatever they want away from plays. What I love about theatre is that each performance is totally unique; that audience will be the ONLY people to see that particular show. I think that's magic. Of course, you hope as an actor, they will come on the journey with you, that they will feel and laugh and in this case feel hopeful and inspired for Stephanie, but I always hope it brings about discussion. If the first comment after the lights come up is 'have you got the car keys or have I?" I think I might have failed them!
Is it challenging performing in Rep?
Well it was pretty exhausting last time, rehearsing one emotional play all day and then playing in another huge role at night. This time is slightly different in that we open the plays at the same time, which I've never done before, so can I get back to you on that?! I'm actually very excited about it. We have a lot of 'double days' where you can see both plays in the same day, one matinee and the other in the evening. I hope people come to those and spend the day with us.
Many people are talking about the West End at the minute due to the sudden closure of Stephen Ward, From Here to Eternity and The Full Monty? Do you think it's an unforgiving place when you're performing, as you could receive a closing notice any day?
Well, the two musicals you mention have run for 6 months…I don't think that can been seen as a failure or anything! Of course there are shows like Les Mis and Phantom that obviously appeal because of their history and as the legendary shows they now are, but in a world that is so fast moving and where everything is accessible we sadly, are always looking for the next thing. I actually don't necessarily think it's a bad thing. If you look at the calibre of work in the West End and regionally at the moment I think it is at its best in years.
You've got the likes of Michael Grandage and Jamie Lloyd bringing huge variations from production companies they've created, St James Theatre putting on gems like Putting It Together and Urinetown, Drew McOnie and Grant Olding bursting on the scene with new writing and choreography etc, etc, to name only a few. I don't think it's a time to despair about theatre. It's vibrant. Across the board actually, TV, films included – better writing, shot well, brilliantly directed etc. We are expecting more as an audience. As well we should.
What are your plans following these two plays in Bolton?
I am actually going off to Chichester to play Sarah Brown in Guys and Dolls. Another regional theatre I cannot wait to return to!
Duet For One /Separation by Tom Kempinski are performed in repertoire at the Octagon Theatre from 10 April – 10 May.