Brassed Off (Tour – Coventry)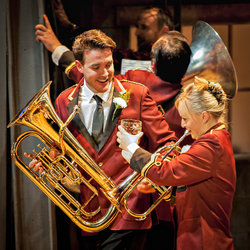 Adapted by Paul Allen from the film of the same name, Brassed Off marches it's way into Coventry this week, complete with a local brass band.
Set in 1992 the play tells the story of Grimley Colliery and it's brass band. When the pit is threatened with closure everyone is affected. Some of the miners have been here before, they have fought and won. Phil is still paying for that victory at his family's expense. The wives are fighting to keep the pit open even though some of the men have given up. Only one thing really unites the town, the colliery band. To win the national competition is ex-miner Danny's dream, he wants to lead the band to glory at any cost. To him nothing is as important as music.
When Gloria arrives in town she creates a stir but with her flugal horn she wins them over, especially old flame Andy. Tensions rise as the important closure ballot draws closer. Will money win over principals? Will the band make it to the nationals.
Everything about this production brings to the stage the grit and determination of the miners and the harsh realities of decisions made in London. There is as much passion from the cast as there was in the miners themselves, you are immersed in the towns story and you feel for the people there.
Andrew Dunn plays Phil who is torn between his family, his friends and his father. The culmination of that torment is an emotional and powerful one. Another stirring moment comes from Danny's (John McArdle) final speech. Throughout the night you see he is a driven man but the passion in that speech gains a round of applause of its own.
One of the most important aspects of this play is the brass band. The audience are treated to numerous songs performed by the Coventry Festival Band. They take pride of place on stage and compliment the actors as members of the town.
This production is witty, gritty, emotional and yet heart-warming. With strong performances and a rousing brass band this makes for a great evening's entertainment.
– Annette Nuttall