Brad Birch: We should stop seeing the Edinburgh Fringe as a competition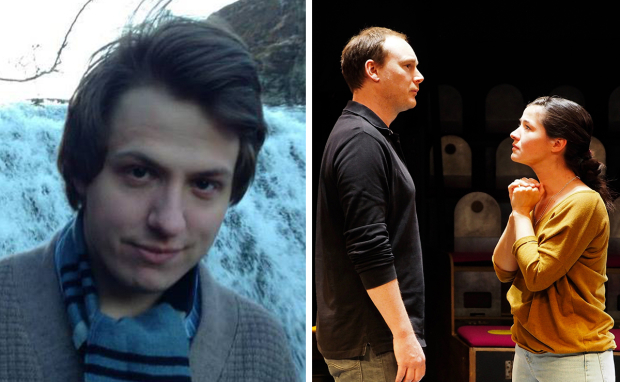 Brad Birch, 30, is no stranger to the Edinburgh Festival – his first play there, Gardening for the Unfulfilled and Alienated, won a Fringe First Award in 2013, while last year he presented Black Mountain alongside Paines Plough at Roundabout. This year he returns with Tremor, a Sherman Theatre production also at Roundabout, which had its world premiere in Cardiff back in April.
---
Can you explain Tremor?
The play starts with a woman, Sophie, who turns up at somebody's door after not seeing them for four years. The two of them used to be a couple and were in a public accident. Their experiences in the fallout of that and their relationship with their trauma put them on very different paths. That's the premise.
What inspired the piece?
It's about how big events can radicalise and change our perspective on things. We found out that some parts of Wales are the only regions in the UK where funding levels for investigating far-right extremism were the same as for investigating Islamic extremism. You don't automatically assume someone from the far right has a Welsh accent, so that was quite interesting.
The show opened at the Sherman in April, have you tinkered with it since then?
Yes. The urge to tinker with the show is definitely one I often feel but this is the first time. I think up until now I've been missing a trick by not editing and as we've performed in the UK and New York before the Fringe, there's been a chance to refine things. It's great to feel like I'm part of the company rather than just a dead writer.
What do you think are the biggest challenges for those heading to the Fringe?
It's more and more evident how difficult it is to get up to the Fringe. It costs a lot of money. I'm lucky that I have a company who can pay for my show, but there are a lot of plays and writers who have to make major personal financial investments. The stress of that would be incredible. My first show was performed to two people at a time in a shed at the Pleasance Courtyard – it was all we could afford.
What advice would you give to writers at the Fringe?
Sometimes it can feel like there's an inherent competitiveness to the festival but really, considering there are writers to the left and right of you, we should stop seeing the festival as a competition and start seeing it as a community. That's the surest way to keep a level head. Plus make sure you get some rest and have some hot dinners.
What are you excited to see in Edinburgh?
All my favourite stuff seems to happen in the Summerhall area, especially in Roundabout which is a great space. This year I'm also really excited about David Ireland's Ulster American, over at the Traverse.
How did you get into playwrighting?
I didn't go to uni or any further education after school but knew I wanted to be a writer, though writing novels seemed like it'd take too long. I'm really a product of writing programmes and individual mentorship. I did the Sherman's Young Writer's scheme, and really owe a lot to people like Peter Cox (who gave me a foundation degree-worthy amount of theatre history from John Osborne onwards while I was growing up), Leo Butler and Simon Stephens.
What does the future have in store?
As a writer there's no bracket that you move into where you're secure – I've got a show at the Yard on in the autumn and at the moment that's the last thing I have programmed – there's a version of events where that's it. There's a lot of uncertainty.