Björn Ulvaeus and Antony Costa: In the Mamma Mia! world you can do anything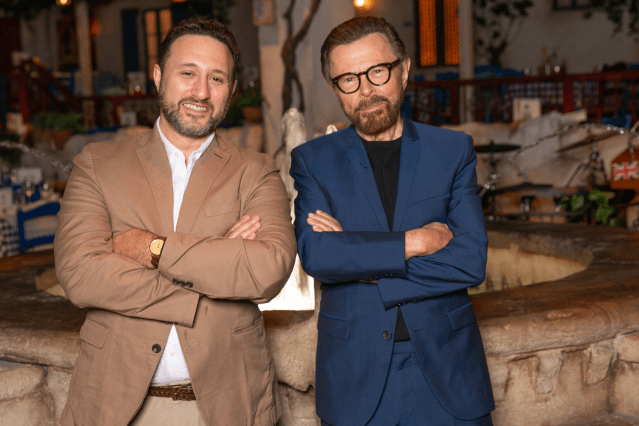 It was a dark, wet night when ABBA's Björn Ulvaeus and Benny Andersson wrote their hit "The Winner Takes It All".
Ulvaeus says he doesn't remember much of the "creative explosion" the band felt in the '70s  – just writing, recording and promoting. But the night that the two penned the heart-wrenching ballad is one where he knew they were on to something special.
"We had one half of [the song] but we just couldn't get the other," he recalls. That is until Andersson started playing a Swedish folk song, "Then one of us – I can't remember who said it – 'what if we wait a few bars in between?'" Eyes shining bright, he proceeds to demonstrate and hum the all-familiar tune as it leads to the great crescendo. It's a magical moment that provides wonderful insight into that fateful night.
"We got such a kick out of that." He laughs, before confessing that whiskey probably played a part in it, too. "We played it over and over again… We couldn't believe it. We thought this must exist already!"
In the warmth of Nikos' Taverna – the home of theatrical dining experience Mamma Mia! The Party, where it is perpetually summer – the number plays a central part in the story. Like in the hit Mamma Mia! stage show, and the 2008 movie adaptation starring Meryl Streep, the number is the dramatic and powerful peak that opens the floodgates.
Blue star Antony Costa is currently playing Nikos and feels right at home at the taverna. Having lived in Cyprus as a child, he points out parts of the set that feel familiar: the souvenir shop, the coffee mugs, and olive trees, with a big smile. "It's the best show I've ever done."
The original story, written by TV and radio royalty Sandi Toksvig, follows the aftermath of the Mamma Mia! movie shoot in Skopelos – where a film producer has fallen in love with a local taverna owner, and the families are starting to merge. "To hear a family squabble in a Greek taverna, that would be very public," says Ulvaeus. "So it's as immersive as it gets."
The carefully constructed agora is a playground to explore with mock shops, a centre-piece fountain, bars stocked with ouzo, and winding bougainvillea. As the evening progresses, the taverna illuminates under moonlight as the disco carries on late into the night.
When Mamma Mia! The Party opened in Stockholm in 2016, they had 40 preview performances with audiences in order to perfect the food, the service and the story. In London, up to 500 guests are welcomed at each show and served a three-course Greek meal throughout. "It took quite a while to get it right, but now people know about it, they are so intent on coming and having a good time!" says Ulvaeus.
Costa explains: "The reason that the experience works is because every night is different… anything could happen and that's what drives us. When I'm singing a song and a waiter or waitress is walking across the room, or somebody has gotten up to go to the bathroom, I have to think on my feet and I love being spontaneous."
During the show, guests are encouraged to "mingle" with each other and Costa talks graciously about the people he has interacted with, including one man who attended alone to mark his wedding anniversary with his late wife. By the end, he was on the dancefloor with other guests.
He adds that his performance is loosely based on a family friend who owns a restaurant in Bristol: "He makes people feel special. You are special to him. That's what I want to do with Nikos in this taverna."
Referencing a particular moment where he dons a toga and gives a rendition of the famed Zorba's Dance, he says: "I like having a laugh and a joke with the guests and staying in character!" to which Ulvaeus compliments; "Nobody has ever looked as good as you in those sheets!"
ABBA's music really is a cause for bonding. On the train down from the Midlands to meet the duo, I was sat opposite a father on the way to the city for his daughter's wedding (thankfully, not with two other potential dads in tow!) and we spoke at length about the Mamma Mia! phenomenon. The same is witnessed every day in the taverna as new friends share their stories and how ABBA's music plays into it.
"It's all testament to the music," Costa enthuses, "The music is the thing that really makes Mamma Mia! The Party and people love it aged from 8 to 80."
Ulvaeus proudly adds: "I've heard a lot about people meeting here and keeping in touch. If you come here alone when you're seated at a table you will make friends. No doubt about it. It's an inclusive place and you can really be yourself."
At the suggestion that the experience is like a setup first date, either for a partner or a friend, both laugh welcomingly. We start to discuss, only half-joking, about the possibilities of a singles' night. After all, there's no more uniting an experience than singing an ABBA number and there's opportunity for that a-plenty from fan favourites to numbers from the back catalogue for all the aficionados.
On what's next for the Mamma Mia! multiverse, Ulvaeus says: "So many cities around the world could sustain Mamma Mia! The Party, so we are looking for venues." But the new characters – including an observational grandmother, a disastrous chef, and of course, the handyman Fernando – could also have a future life. "This taverna and this story and these characters, there's no reason we can't develop new stories with these characters in them."
It's exciting to think of the possibilities for Mamma Mia! – a feel-good story that encourages people to take chances, to love, and to adventure. As Ulvaeus says: "In the Mamma Mia! world, you can do almost anything."
Tickets are on sale below.