Barry Humphries' Farewell Tour – Eat Pray Laugh (Tour – Manchester)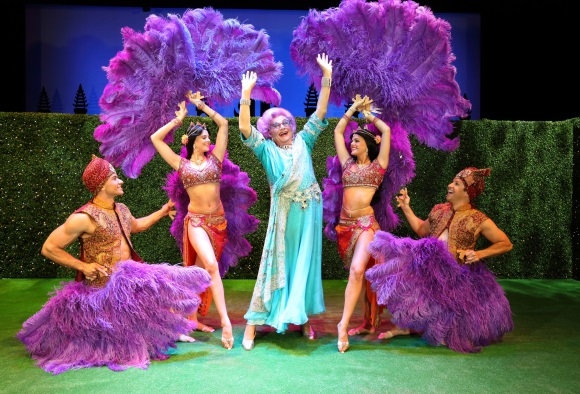 During the opening night of his final tour in Manchester, Barry Humphries gallantly deals with something more than a heckler. A woman shouts because people are laughing at what she deems offensive. The comedian's Eat Pray Laugh tour gives audiences the chance to say "goodbye sport" to many of his most famous "characters", including the scruffy sexist that is Les Patterson and his most famous creation – the Australian megastar Dame Edna Everage.
I have highlighted the word "characters" because we are invited to laugh out their outdated views on everything from immigration to gay marriage, gender roles and the class system. Sure, some of the humour is close to the bone and treads a fine line between puerile and disgusting. But that is also the joy of the piece. Shock can be the main source of laughter in a show like this.
But where Humphries differs from the likes of Frankie Boyle and Jimmy Carr is that he is a fine actor who does more than tell jokes. His Sandy Stone is a tremendous creation, as during his monologue, we do not know whether to laugh or cry. At times, I did both, as the old disillusioned character takes pot shots at modern language and management styles and looks back at child bereavement and his wife's miserable time in a nursing home. It's strong stuff and beautifully done.
Sir Les Patterson and his tagged gay brother outstay their welcome slightly. But this also highlights how versatile Humphries is, as he can play a "whoopie cushion of a character" one minute and another worthy of a play to himself the next. Offensive? Yes, but that's the point. We have met characters with these views in a supermarket queue or on a train.
The second act is all about Dame Edna and this is when the audience go wild. Her interaction with her adoring fans is the stuff that most comics dream of. Remembering the names of everyone she encounters and building a narrative around them is delightful to watch. Add some song and dance numbers and amazingly quick costume changes and you have all the ingredients for a great rib-tickling night out.
I found plenty of "lol" moments. These were overshadowed momentarily by the disgruntled audience member, but Humphries even inserted that into his act, the pro that he is. I saw more people amused than bemused. And for a man of 80, he runs rings round many of the celebrated young guns.
Stay around for the close, as the man himself leaves his costumes and prosthetics behind and a humble and grateful personality emerges. This "Fair Dinkum" moment is worth the admission price alone. Sure, some of the skits go on too long, but there's so much great comic genius on display here that you will go home knowing that you have witnessed a true "Beaut".
So long Barry. And thanks for a great farewell and some timeless memories.
Eat Pray Laugh is at the Manchester Opera House until 8 March.