Backstairs Billy review – Luke Evans and Penelope Wilton in a West End Clarence House caper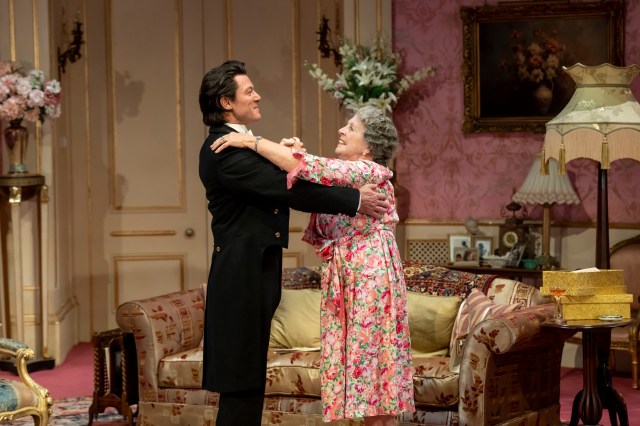 Marcelo Dos Santos's Backstairs Billy is a strange thing. Not six characters in search of an author, but a set of good lines in search of a play.
It has all the trappings of a West End hit. A sumptuous set by Christopher Oram that places the late Queen Mother in the garden room of Clarence House, all flower paintings, floral displays and damask curtains. It has a Rolls Royce cast in the shape of Penelope Wilton as Queen Elizabeth and Luke Evans as her loyal Page of the Backstairs, friend and enabler to his royal mistress for 48 years. Not to mention a massively accomplished director in the shape of Michael Grandage.
It's full of zinging one-liners and laugh-out-loud moments. Yet for the life of me, I couldn't work out why I was watching it or what it was really about.
The setup is simple and has some basis in fact. William "Billy" Tallon entered royal service at the age of 15 and rose through the ranks of footmen to become Page of the Backstairs, loyal servant of a widowed Queen, isolated in Clarence House after the death of her husband King George VI. Here we first see him in arrogant but charming charge, keeping his royal charge entertained by organising a party fuelled by industrial strength cocktails – even when the guests are teetotal.
The tone is light, and Evans makes the most of Billy's flouncing enjoyment of the power he sustains. "All that matters to us is knowing what she wants," he schools timid new recruit Gwydion (Iwan Davies), mixing his instructions on behaviour with seductive innuendo. But the stage only really lights up when Wilton enters, in loose pastels (clever costumes from Tom Rand), moving with a regal glide and preceded by two corgis.
As her relationship with Billy unfolds, it serves as a reminder of what a great comedic actress Wilton is. Her timing of lines such as the QM's response to the idea of welcoming the French cultural attaché to one of her soirées, "as long as we don't have to talk about culture or France" is a consistent joy. Every joke lands with the precision of a targeted missile, always suggesting the sharpness behind the smile.
Even more beautifully, she hints at the sorrow of a woman widowed in her 50s and banished from the kind of power and influence she once enjoyed. The look on her face as Billy talks about her "Funny little house, funny sort of court" is so nuanced and suggestive of all that she has lost and all she longs for.
But the play too often leaves her conjuring with air. What might have seemed a sensitive and amusing study of the bonds that can grow between servant and mistress if both are unrooted enough or an investigation of why people love the royals even when they are fallible, ricochets off in the second act into a messy mixture of farce, politics and class critique.
Set in 1979, it's anxious to introduce both the rise of Mrs Thatcher and current events but does so in clumsy ways. Ian (Eloka Ivo), a pickup of Billy's, breaches security and introduces the Southwark riots into conversation; a clutch of caricatured aristocrats marvel at the grocer's daughter who is about to be PM. It veers so wildly in tone that the conclusion where Billy's confidence encounters both establishment might and a true sense of entitled right from his mistress, feels oddly muddled and unearned.
Plus, Wilton is made to act with a corgi. That she pulls it off, is a tribute to her general brilliance rather than to the increasingly frenzied business that surrounds her. Given the success of his solo text Feeling Afraid As If Something Terrible Is Going To Happen (which returns for a London run this month), Dos Santos is undoubtedly a talented writer, with a distinctive voice and a welcome wit, but he doesn't pull off the difficult business of basing a play on real events – and then shaping them to his own view.
Backstairs Billy, for all its humour, feels like a smudged snapshot rather than a fully realised portrait.