A Life of Galileo (Theatre Royal Bath)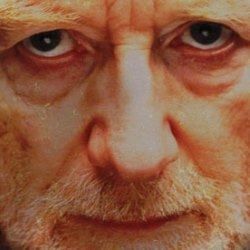 A Life of Galileo follows the scientific philosopher as he shook Europe, putting forward the concept that the universe was heliocentric and the Earth revolved around the Sun, not the other way round.
Ian McDiarmid portrays eccentric Galileo with a devotion that few actors will achieve in their careers. McDiarmid artfully performs the genius' despair in consideration of society's ignorance towards scientific discovery and shows a level of depth and compassion, which very few could relate to Galileo's defiant, yet moral, character.
Director Roxana Silbert chooses ageless costumes, an erratic soundtrack and embraces the casts' range of accents to create a performance set outside of time and space.
The play seems to be split into chapters, rather than scenes, in between which the cast members take it in turns to narrate the plot, fast-forwarding the story to significant dates in Galileo's lifeline. Due to the play's historical content a digital banner hangs above the stage, displaying surtitles such as 'Galileo Recants', alongside relevant dates throughout the early 17th Century for the audience to use as a reference point.
It kicks off in a bizarre way, Galileo strips down to his boxers and washes himself exuberantly, whilst enthusing to one of his students about his most recent discovery, proposed previously by Copernicus. From here the direction continues in the same vein and at one stage a cast member strips down to just a fat suit and a pair of nipple tassels, which he jiggles appropriately as he narrates his part of the plot.
The satire, written by Brecht, illustrates the Catholic Church going into shock over Galileo's revolutionary theories and condemning him, with screams of heresy, forcing him to recant. Using knockabout comedy and other unusual methods, this production, translated by Mark Ravenhill, is overwhelmed by Brechtian techniques, from on-stage hand-microphones to sporadic use of melody within dialogue.
The simple set of step-ladders and chairs, set against a backdrop of graph paper allows the audience to concentrate solely on the story, encouraging the use of imagination – perhaps to reflect Galileo's ability to dream in his search for the truth.
The first act is perhaps a little long and might sometimes be difficult to follow for those who are not familiar with Galileo's story. Then after the interval the play shifts dramatically, for some reason deciding that it is going to be a musical. Whilst this is a little strange, the exciting yet doom-ridden carnival sequence, complete with masks, music and movement, wakes you up ready for the second act, which is much shorter than the first.
Strong performances come from Matthew Aubrey as the inquisitive student Andrea, in whom Galileo confides many of his discoveries, and Patrick Romer as the cold Cardinal Inquisitor. Despite the troubling content of the performance, the production is rich with the excitement of discovery and this comes across in well-placed humour.
A Life of Galileo plays at Bath Theatre Royal until 22 March and then tours to Kingston and Cambridge until 5 April.
– Hannah Sweetnam