A guide to open air theatre in summer 2023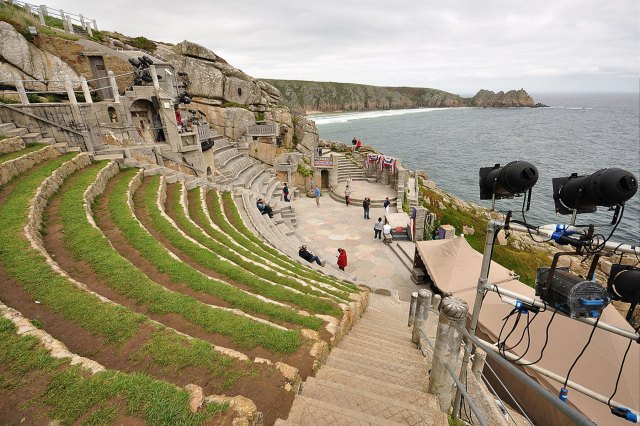 Today marks the first official day of summer here in the UK (cue that delightful song performed by Olaf in Disney's Frozen) and so we thought we'd rustle up a sizzling guide to al fresco theatre in 2023! Check out our "Too Darn Hot" picks below:
Regent's Park Open Air Theatre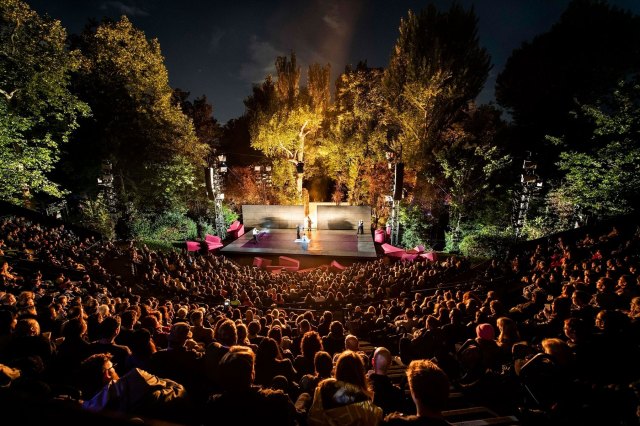 One of the most picturesque venues in London, Regent's Park Open Air Theatre has a variety of shows on offer this summer – for both the young and young at heart. Arguably the highlight of the season could be departing artistic director Timothy Sheader's revival of La Cage aux Folles(29 July to 16 September), with a stellar cast led by Carl Mullaney, Billy Carter, Ben Culleton, Julie Jupp, Shakeel Kimotho, Debbie Kurup, John Owen-Jones and Sophie Pourret bringing "The Best of Times" to the leafy amphitheatre. The current production of Carl Grose's Robin Hood: The Legend. Re-written continues until 22 July and Shakespeare's The Tempest re-imagined for everyone aged six and over (30 June to 22 July), revised and directed by Jennifer Tang, and Dinosaur World Live (11 August to 3 September) could be great options to entertain your youngsters during the school holidays.
Shakespeare's Globe
Shall I compare thee to a summer's day? Of course, no open air theatre list is complete without at least a mention of Shakespeare's Globe. The modern reconstruction of the original theatre so closely associated with the Bard at the turn of the 17th century has been entertaining the public since 1997 and this summer's offerings include the current productions of The Comedy of Errors (until 29 July, read our review) and A Midsummer Night's Dream (until 12 August, read our review), as well as forthcoming stagings of Macbeth (21 July to 28 October) and As You Like It (18 August to 29 October).
Shakespeare in the Squares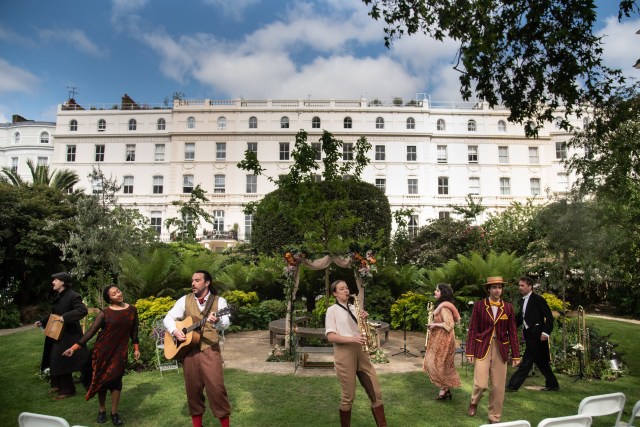 Shakespeare in the Squares is a not-for-profit touring theatre company with a mission to stage Shakespeare plays throughout London's garden squares and open spaces across the summer. Their current offering of Twelfth Nightcontinues through to 7 July and will visit: Charterhouse Square (tonight, 21 June), Elgin and Arundel (23 June), St Peter's Square (24 June), Belgrave Square (25 June), St Anne's Church Garden (26 to 27 June), Charlton House and Gardens (29 June), The Actors' Church Gardens (30 June to 1 July), Ladbroke Square (3 July), Crescent Garden (4 July), St James's Square (5 July) and Cleveland Square (6 to 7 July).
Kilworth House Theatre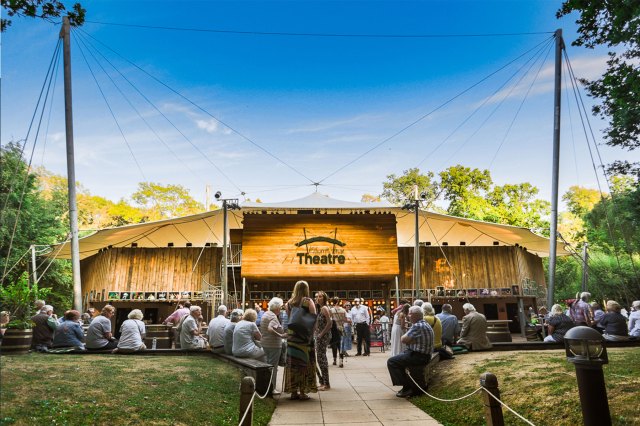 If Shakespeare isn't quite your cup of tea – if you're more The King and I than King Lear and more Hamilton than Hamlet – then why not take a trip to the gorgeous Kilworth House Theatre in Leicestershire where the WhatsOnStage Award-winning Best Musical Hairspray will be running from 27 June until 6 August? Now, run and tell that!
Pitlochry Festival Theatre
In Scotland, Pitlochry Festival Theatre also offers an outdoor amphitheatre with al fresco offerings of The Secret Garden (7 July to 19 August) and Sherlock Holmes: A Study in Lipstick, Ketchup and Blood (1 September to 22 September) this summer.
Grosvenor Park Open Air Theatre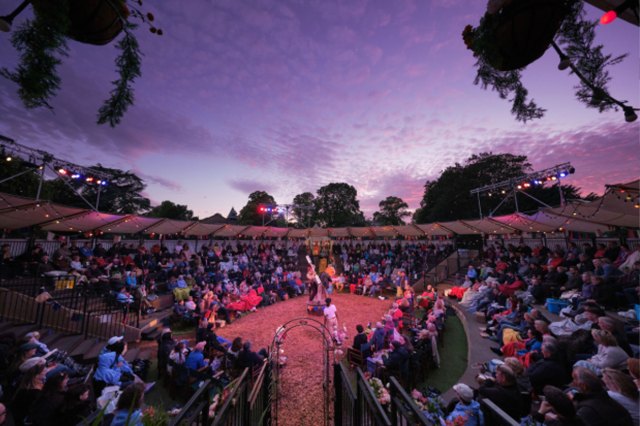 Chester's premium al fresco venue is host to not one, but two productions this summer: Shakespeare's fantastical comedy A Midsummer Night's Dream (1 July to 27 August) and a stage adaptation of F Scott Fitzgerald's beloved novel, The Great Gatsby (21 July to 27 August).
Brownsea Open Air Theatre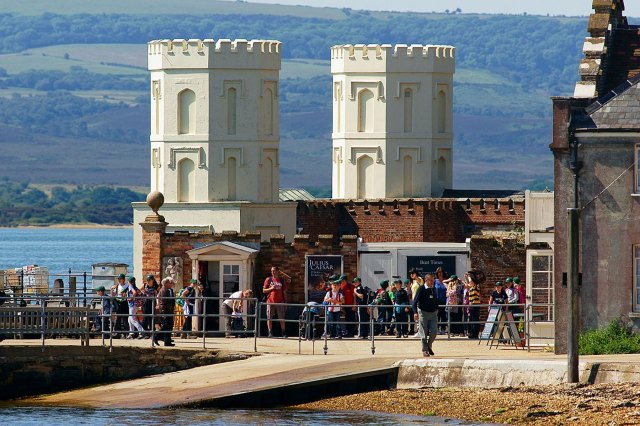 Since 1964, Brownsea Open Air Theatre has been staging Shakespearean productions in its idyllic island setting in Poole Harbour, Dorset. This summer, the company will mount Romeo and Julietfrom 26 July to 11 August.
Brighton Open Air Theate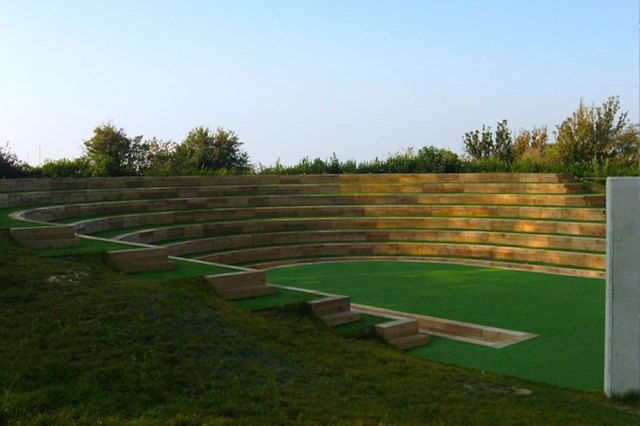 Brighton's outdoor amphitheatre is well worth a visit this summer with a plethora of theatrical productions on offer – from classics such as Jane Austen's Emma to Alan Bennett's The Madness of George III and from Shakespeare's Macbeth and The Comedy of Errors to the stage adaptation of Shakespeare in Love. Check the venue's website for full dates and listings.
Lavender Theatre
A new 250-seat outdoor venue in Epsom, Surrey is set to open this July. Founded by Joe McNeice, the Lavender Theatre's inaugural production will be a revival of Annie Get Your Gun. There's no business like show business, as they say!
Greenwich + Docklands International Festival
The Greenwich+Docklands International Festival offers an annual programme of outdoor theatre, performance art, dance and circus. This year's programme runs from 25 August to 10 September and includes acts such as The Air Between Us, Ancient Futures (fusing circus, West African folklore and Afrofuturism), The Architect (taking place aboard a London bus) and Bouncing Narratives (mounted inside a container  with a trampoline for a roof). Full listings will be announced shortly.
Minack Theatre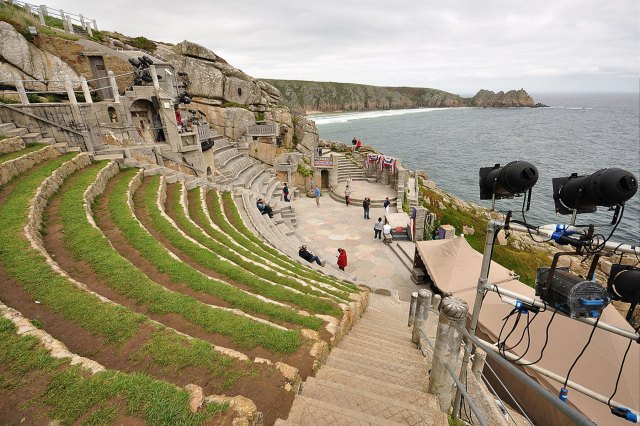 Arguably the most iconic of the UK's outdoor theatres, the Minack is located in Porthcumo, just 4 miles from Land's End in Cornwall, and has been in operation since 1930. This summer season caters to all genres, whether you're a fan of musicals (Everybody's Talking About Jamie, Evita, The Threepenny Opera), dramas (Antigone, A Streetcar Named Desire, Captain Corelli's Mandolin) or comedies (Blithe Spirit, Twelfth Night). Check the venue's website for full dates and listings.