5 minutes with: Javone Prince – 'Everyone thinks I'm a comic but I trained as a straight actor'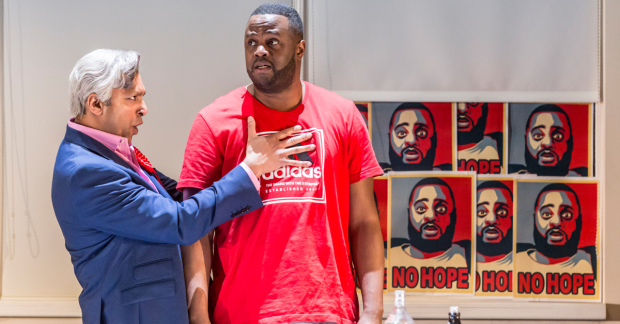 Watching Dangerous Liaisons with Glenn Close made me want to act. We lived in a council house and acting, going to drama school wasn't really accessible so when I was young, my mum got cable. I saw Dirty Rotten Scoundrels with Michael Caine and Steve Martin and I literally just lost it because I couldn't stop laughing, I was like, 'mum what can I do, you have to do something'. She said, 'I've got no money so I don't know how you're going to do it but follow your heart and you'll find it'.
I went to college and did Performing Arts and an outreach worker from LAMDA came in and said you can go to drama school. I thought, 'erm aren't we a bit old to go to drama school, aren't they for kids' – I never knew there was a drama school for adults, people who wanted to act. I applied and they gave me a scholarship for three years which was amazing.
I trained as a straight actor. When I left drama school I did a lot of plays. I got into comedy when I did a Little Miss Jocelyn [BBC series] episode, I was just doing loads of little bits here and there. Then I did PhoneShop and that kind of made everyone think that I'm a comedy actor.
Ricky Gervais helped us to get through the door at Channel 4. We did a taster take of PhoneShop that we sent to everyone and he got back to us. He said, 'It's is a great script but you need to change a few things'. He put my name down as script editor and sent it back to Channel 4 and since then he's given loads of us work. He's so amazing and so generous. I did Life's Too Short with him and Warwick Davies which was great.
I missed the buzz of theatre and that fear that anything could go wrong. With The Suicide, I think it's important that we put the play on and show its message because that's what we're going through, we're reflecting reality and what we can do about it as a society. It's based in London and it's about Sam Desai, a guy who's been signing on for about five years but every time he goes to interviews he just can't get the job. He's in that depressed state where he has no money and its just hard living in a city where everything costs so much – house prices, travelling, anything you want to do, as soon as you step out of your house in London you have to pay for something. So that kind of messes with his head a bit. He just wants to work and be a man.
I got laryngitis and lost my voice, I was off for about a week. I was devastated when I couldn't go on and I missed it, I missed being on stage. It was the worst feeling in the world, I didn't think I was going to get my voice back because I had no voice at all. It's not 100 per cent now but it's back so I'm happy.
I'd love to direct a play in a couple of years. I've always wanted to see if I could do it because it's a difficult task. Directors, I take my hat off to them because it's a tough job to be in, putting a play on and managing actors and making that connection with them, making them see the vision of what you want to achieve.
---
The Suicide runs at the National Theatre until 25 June.