5 minutes with: Fenella Woolgar – 'Thatcher was fascinating to play'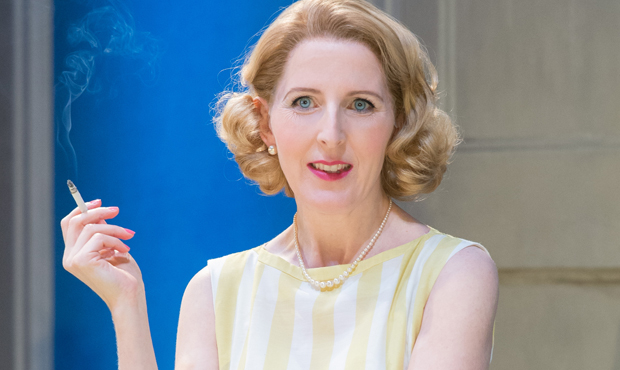 I had always wanted to act but nobody in the family did so everybody was a bit worried. I was made to go to university and then I did a post-grad which was a load of nonsense really and after that, I secretly auditioned for RADA. It was a long road to it.
I am so grateful to Stephen Fry for taking a punt on an unknown. Nobody knew who I was when I got a part in Bright Young Things, I was a couple of years out of drama school, so that was just brilliant. I would always recommend to anybody if they really want to act, go to one of the top five because you'll get seen and that will launch you. Stephen hasn't got a nasty bone in his body, he's such a nice man.
It's so freeing playing someone who's very different to you, like Thatcher [in Handbagged]. I watched everything that was going, all of her big debates, her television appearances, Prime Minister's Questions, there's so much out there I completely immersed myself in it, it was exhausting. I remember one of the dressers saying 'oh you actors, you only have to come onstage for two hours' and I thought you don't know the half of it.
I understood the lure of politics for the first time and how terribly exciting an arena that is but I also understood the misogyny of the time and how difficult it was. I know everyone gives her a hard time for not being a proper woman – which annoys me because there are many ways to be a woman and there are many ways to be a man – but whatever one thought of her politically that's a silly road to go down. She was fascinating to play.
The glory about doing theatre is it's a relationship, you're not on your own. Every night has a different atmosphere and you develop a relationship with the audience, they are key to the success or not of that night, they really are participants and that's exciting.
Welcome Home, Captain Fox! is bonkers and slightly glorious. It's based on Jean Anouilh's play which itself is based on a true story of a soldier from WWI who had amnesia. Nobody knew who he was but a large number of families claimed him as their own, obviously so many people died in WWI and people were desperate for this missing soldier to be their own family member. Anouilh took the bare bones of the story and wrote a play about it and Antony Weigh has relocated it to 1959 America and had a lot of fun with it.
We're a sort of ghastly Long Island family who are falling apart at the seams. I play somebody called Valerie who's married into this crazy family and she's a damaged person really. In the way that people who are not loved are damaged, I'm not sure if poor old Valerie's ever been loved properly. I think he [Jack Fox] has got this poisonous family that he's trying to escape but I think there's all sorts of questions as to whether you can truly escape your own nature.
An interesting thing about the play is the position of women in the 1950s. The thought that there was one route, possibly a few more, but everyone was looking for marriage and worked only until they could bag a husband. What a reductive life that was for bright women, where do you turn that intelligence and what would that do to you? It definitely comes out in some fairly spiteful ways for Valerie but it's got to go somewhere. It's an interesting little piece.
---
Welcome Home, Captain Fox runs at the Donmar Warehouse until 16 April.