20th Century Boy (Tour – Manchester)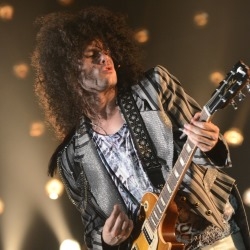 Another musical based on an iconic singer/songwriter from music's rich past. Undoubtedly many people with roll their eyes and instantly write this off as another juke box musical with little substance. But 20th Century Boy is so much more than this.
Chronicling the tragically short life of glam rock star Marc Bolan; front man of T-Rex from school days through to his untimely death just before his 30th birthday; the audience are treated to an interesting story as well as great songs.
From Bolan's hippy days through to the hedonistic success of T-Rex and the effect on is health, the story unfolds from the point of view of his son; Rolan Bolan (Luke Bailey) who is trying to get to know his father through the eyes of those knew him best as he died when he was just an infant.
Expertly cast by Anne Vosser; this show needs a strong Bolan to succeed and that he has been found in Warren Sollars. Capturing the on stage persona of Bolan perfectly, Sollars looks, moves and importantly sounds like the man himself.
Well supported by both leading ladies; Donna Hones as Gloria Jones and Lucy Sinclair as June Child and all other cast members, there is no weak link here. Under the expert direction of Gary Lloyd the cast bring the tale to life with he necessary grit, passion, tenderness and drama which overall shows that Bolan's life is worthy of being made in to a musical.
Under the musical direction of Ryan Alex Farmery, the band create that bass rich deep sound so synonymous with T-Rex and live musicians are essential for this piece.
The use of projections has thankfully been kept to a minimum and the lighting overall is good, especially during the psychedelic phase (Ben Cracknell and Will Duke). The concert scenes are fantastic and certainly delight the audience.
This is not just a show for fans of T-Rex and Marc Bolan. It is a touching and entertaining show that will have you reaching for some vinyl and perhaps a feather boa and some leopard print.
As a new show, this one certainly knows how to "Get it On!" So "Ride a White Swan" all the way to the theatre and catch this if you can.
20th Century Boy is at the Manchester Opera House until 26 April and is touring the UK until July. For further dates, click here.