Visitors at the Watermill Theatre – review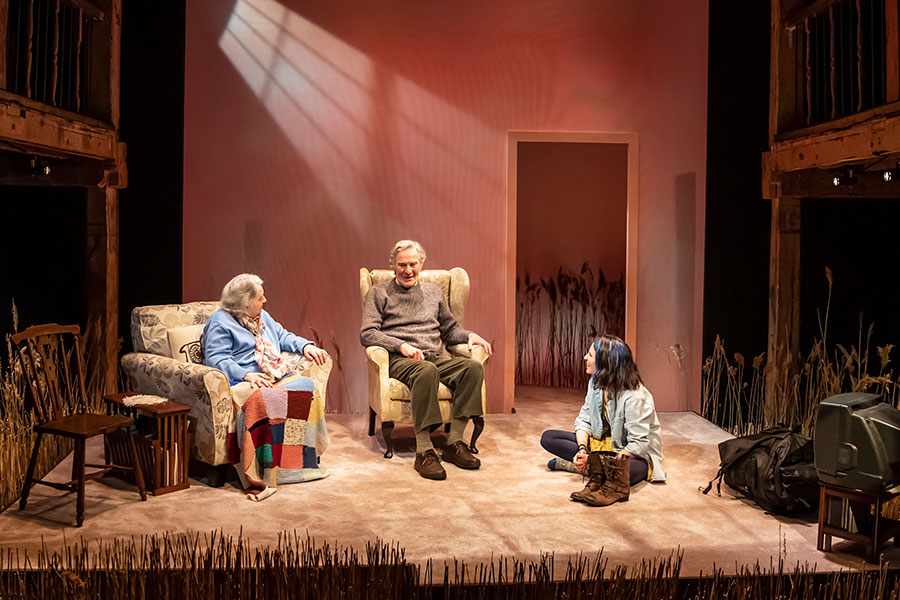 Writer and director Barney Norris is a local man, whose own life has been affected by the dementia at the heart of his characters' journeys. He displays so much deep knowledge and affection in this tale of love rising above the almost insuperable challenges of dealing with a loved one affected by dementia. Coupled with his obvious feeling for the Berkshire and Wiltshire countryside around, and beyond the Watermill, it makes for an elegiac evening.
Good Teeth Designers' set succeeds in suggesting a homely rustic farmhouse interior, complete with gently fading favourite armchairs on an ageing cream carpet; and the local countryside (enhanced by Ed Lewis's evocative soundscape) both beyond the windows and 'outside' downstage. James Whiteside's lighting has shafts of bright sunlight illuminating the shabby room, and darkening to violet as dusk falls. Here sits Tessa Bell Briggs' warm-hearted Edie, in a jumble of well-worn garments, covered from waist to knee with a patchwork rug. Edie too is gently fading away, ambling down the path from a vague grasp of her world, her relationships, to a dementia which is both cruel and kind.
Sitting beside her or hovering solicitously but increasingly ineffectually over her, is Arthur (Christopher Ravenscroft) her husband of many decades. With the failing farm echoing Edie's failing memory, it's no wonder worry lines are etched into his face. No wonder too that their conflicted son Stephen's failing marriage and distance from his family, thanks to an obsessive workload travelling the local countryside, leave him with little room to tend to his parents' needs. Patrick Toomey's disconnected Stephen flits in and out of their lives and their living room, always preoccupied, unable to invest in the time needed to offer effective help or properly to connect with them.
It's not surprising, and perhaps to his credit, that he enlists a vigorous young recent graduate to take the weight of caring for Edie from Arthur and to subtly care for Arthur too. Nathalie Barclay's feisty, formidable Kate erupts on to the stage like a breath of fresh air, literally blowing away the scions of the two older generations, as she briskly gets on with her new 'gap-year' job. Bish bash bosh, she rustles up cups of tea in seconds of real time, a lovely effective moment of surrealism.
Having accompanied my own late mother on her dementia journey, I can vouch for the authenticity of Norris's empathetic and perceptive account. Each of the four characters takes the audience on their own journey, criss-crossing with the paths of the other three. I recognise particularly Edie's touchingly detailed arc, beginning almost jovially, with Bell Briggs mining the comedy (and I agree that there was plenty of that on my mother's journey), before she descends into the pathos of gradually losing her memory, so that each encounter in the room is for her a first – a brief first.
The next stage for Edie, is actually for those around her to come to the difficult decision to try to find a place for her in a home. This is hardest for Arthur especially. He is most deeply affected by coming to terms with this unwelcome development. How will the togetherness of decades of marriage, of living and loving and labour on their farm, survive the physical loss? Ravenscroft's account of the struggle to come to terms with the idea of separation is entirely convincing and deeply affecting. With great love, comes great loss, if circumstances dictate.
"Only connect", exhorts E M Forster. If only this couple can, they will. It's the son Arthur, representing the middle generation, who strives to recognise his need to connect and to put in the work to achieve it; and knowing young Kate realises that she is just at the start of the search for connection. Norris's detailed account of the connections and disconnections of these three generations, following these four on their interwoven journeys, makes for a moving, absorbing and thought-provoking journey, for a totally connected audience.