Tom Edden: 'I'm an absolute Amadeus anorak'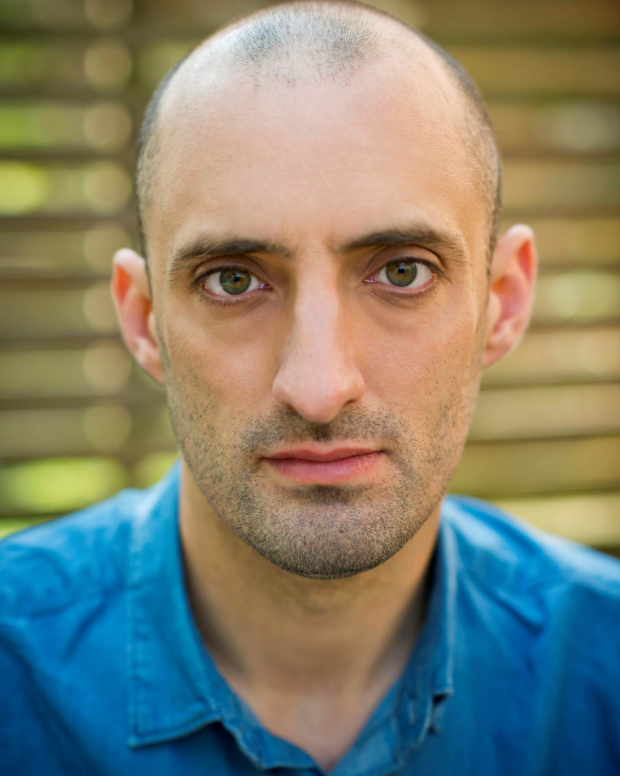 For a guy who has been in some of the coolest shows of the last year or so, it's surprising how much of a nerd Tom Edden is. He has starred alongside Kit Harington in Jamie Lloyd's darkly pumped-up Doctor Faustus in the West End, played Pompey in Joe Hill-Gibbins' sex doll-mad Measure for Measure at the Young Vic and taken on the narrator in Peter Pan Goes Wrong, created by new(-ish) comedy company on the block Mischief Theatre. Three of the most dynamic and happening shows you could have seen in London in recent months.
And yet: "I'm an absolute anorak," says Edden when we meet at the National Theatre during a break in rehearsals of his latest project. It's this project that has prompted Edden to lay bare just how geeky he really is. He's playing the Emperor in Michael Longhurst's production of Amadeus and Edden is in seventh heaven, because he knows a lot – a lot – about classical music.
"It's always dangerous when you go for an audition and you really want it. It's best to be slightly unattached, for your own sanity," he says. But he couldn't help it here: when he heard the NT was doing Amadeus, with this director and with live music, he knew this would be the production for him.
'When I won the Drama Desk Award, I felt like I had been dropped out of the sky'
He was 11 when his mum introduced him to classical music and he became a frequent visitor to a second hand music shop in Guildford where he grew up. "I started with a Tchaikovsky compilation and then I got hooked." Get Edden started on his new role and you will quickly realise that a part in Amadeus really is his perfect job. He talks eloquently about how, in the eighteenth century, countries vied to have the best architect, musician or composer ("there was the arms race of culture"); about how Mozart's only real equivalent is Shakespeare because they both showed "how much was possible within the boundaries [of the genre] they were working in". He is giddy with excitement at the fact that Longhurst is staging the play with a 20-piece orchestra and six opera singers: "It will be amazing. And unique."
Peter Shaffer's 1979 play is a fictionalised account of the lives of Mozart (played here by Adam Gillen) and fellow composer Salieri (played by Lucien Msamati). The piece follows Salieri as he manipulates the attitudes of the Emperor Joseph II and the rest of the Viennese court toward Mozart. The piece first opened at the NT, starring Simon Callow as Mozart and Paul Schofield as Salieri. This revival production looks epic.
It's not the first time Edden has been desperate for a role because he's a fanboy. He managed to bag himself a part as a First Order Officer in the most recent Star Wars ("I say a line!") because he is "an absolute Star Wars nerd". But it's not just enthusiasm that lands him roles. The 37 year-old is one of Britain's most gifted and versatile contemporary actors, not to mention a performer who is a natural at physical comedy. In fact, the Star Wars gig came mainly because of his role in another smash hit production: One Man, Two Guvnors.
'I hadn't actually unpacked and there was a half page on me in The New York Times'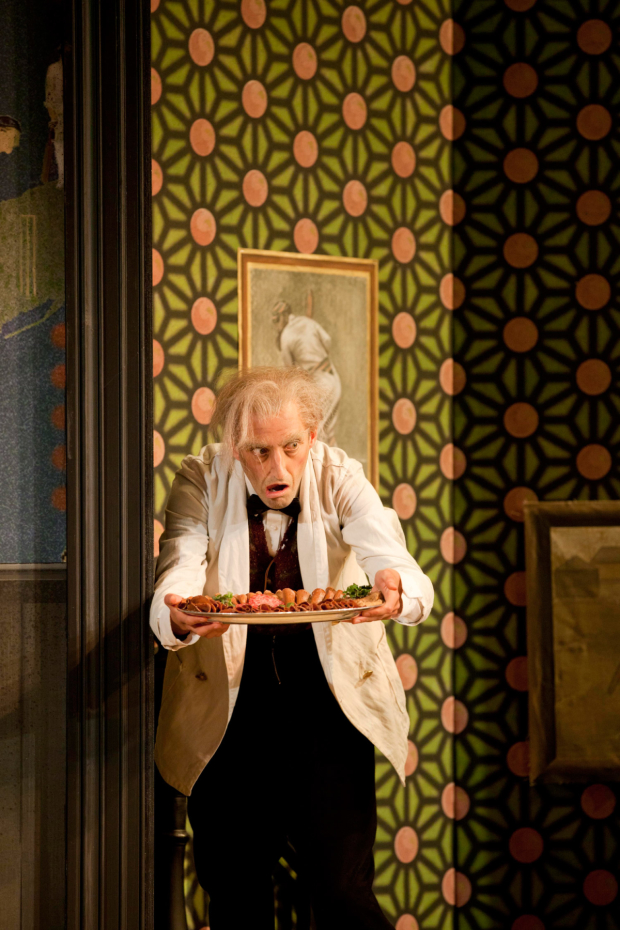 Nick Hytner's production of One Man, Two Guvnors changed things somewhat for Edden. He had barely 20 lines and played an octogenarian waiter who tries to help Francis – then played by James Corden – serve lunch to his two bosses. "I feel very, very lucky to have had a job like that. It was probably the best five months of my life," he says. "It was just blissful." That was before they had even got the show to New York: when it transferred life got crazy for Edden.
"It sounds like I am making it up but I hadn't actually unpacked and there was a half page on me in The New York Times," he says. Edden's hilariously funny physical performance had captured Broadway. He was nominated for a Tony for Best Featured Actor in a Play and won the Drama Desk Award for Outstanding Featured Actor in a Play.
"When I did my speech I said – 'You guys have no idea who I am' – and that was how I felt. It was like I had been dropped out of the sky," he explains. On Broadway, stars lined up to meet the cast – he met Sally Field, Bette Midler and Gene Wilder, to name a few. Oh, and let's not forget JJ Abrams – the then soon-to-be director of the new Star Wars – who absolutely loved the show and remembered Edden when the actor came looking for a part in the new film. After Guvnors , Edden took on roles in films such as Mr Turner and Kenneth Branagh's Cinderella: "It's wonderful to work with people of that calibre, it's just really great to see how nice they are," he says. "There's no one barking and being dictatorial, they are really decent people and they really care about what they do."
'In my One Man, Two Guvnors audition I committed the sin of trying to be funny and [Hytner] saw it a mile off'
If you saw Edden's performance in Guvnors you'd be amazed to hear the actor hadn't trained in physical comedy. But he has used that comedy again in roles such as Fagin in Dan Evans' production of Oliver! and Thenardier in the West End production of Les Miserables. And his love of the Marx Brothers, Faulty Towers, Blackadder and Laurel and Hardy informs his comedy performances. In the Guvnors audition he says he was asked to change a light bulb as a geriatric person. After one dud attempt ("I committed the sin of trying to be funny and [Hytner] saw it a mile off"), he had the room in stitches.
He's been riding high this last year, but it's not always been like this: "In my 20s, work was really patchy," he says, "but this year has felt good in terms of clearing space for things like Faustus and Amadeus to appear." He may be an anorak, but with audiences and directors alike, Tom Edden is far from unpopular.
Amadeus is currently in previews at the National Theatre and opens 26 October until 2 February. The show will be broadcast on NT Live on 2 February 2017.
Watch Tom Edden's 2012 Drama Desk Award speech