The Mastersingers of Nuremberg (London Coliseum)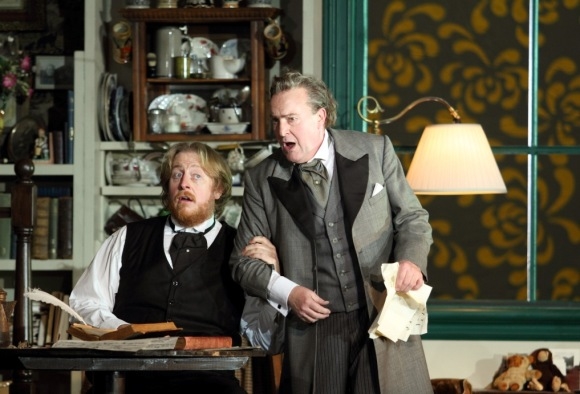 Where were you the night
Iain Paterson
sang his first Hans Sachs? I was among the lucky ones, and some day I'll tell my grandchildren how it felt to watch a journeyman baritone morph into one of the greats.
The unlikely hero of Wagner's Die Meistersinger von Nürnberg is a widowed shoemaker with a sideline in quasi-masonic singing. In the ENO production, formerly at Welsh National Opera and now of this parish, director Richard Jones presents Sachs as a rumpled man whose mischievous streak belies a steely inner determination. Wily, reflective and at once passionate and responsible, he's a city elder, a stalwart of his fraternity and a cobbler to the last.
Plenty for Paterson to chew on then, and he has a feast. His smooth voice, more refined than many in this repertoire, is so expressive he could be talking. Working alongside Jones at his most inspired, he inhabits a man who's both blest and cursed by his capacity for profound thought. The role is part of a year-long Wagner trajectory that's taking the Scot from Kurnewal in Tristan und Isolde to Wotan in Das Rheingold; but far from being a staging post Sachs is a pinnacle in its own right, and a triumph.
Led by this lion, The Mastersingers of Nuremberg is a complete company achievement. The cast is overwhelmingly British (although the American James Creswell makes a welcome visit to sing Pogner), the augmented chorus is tirelessly brilliant and the ENO Orchestra plays out of its collective skin under Edward Gardner – sounding, dare I say it, rather more secure than its ROH counterpart had done earlier in the week.
'I was moved as never before by this opera'
The company's home proves to be the ideal venue for Jones's vision, and not even the Coliseum's vast stage can contain a production that spills out into one of the boxes. By all means tick off the director's tics as they occur – garish colours, heads in cardboard boxes, slow parades, patterned wallpaper (albeit on roofs and on the horizon) – provided you also acknowledge his attention to detail and the depth of his work on interpretation.
Chief among the beneficiaries of his perceptive direction is the radiant Rachel Nicholls, who brings Eva to startling life when her emotional weeping threatens to turn complicated. Andrew Shore, by contrast, is allowed to have the best fun as a hilarious Beckmesser, doomed like Malvolio by his own hubris. And if Nicky Spence's ringing David seems to be doubling as an audition for the larger role of Walther, well, why not? Not that he'll be unseating Gwyn Hughes Jones in a hurry. The Welsh tenor may have been more fashionably dishevelled than the glitteringly attired knight imagined by Wagner, but he was in glorious rhapsodic voice.
The first act of Mastersingers can be a long haul, and Jones didn't entirely allay its longueurs as the stuffed shirts of Nuremberg kitted themselves out like a hand of jacks; but by the final act, at two hours practically an evening in itself, I was moved as never before by this opera. The ravishing quintet, which must surely have influenced Richard Strauss, made way for a staggering final scene that managed to substitute national pride for Teutonic jingoism.
A good night for the Germans, then, and an even better one for the English. In one extraordinary production ENO counters just about every dart that's been thrown at it during a difficult January. For now at least, when controversies rumble on, the company's best riposte stands proudly on its stage.