Review: Six (Arts Theatre)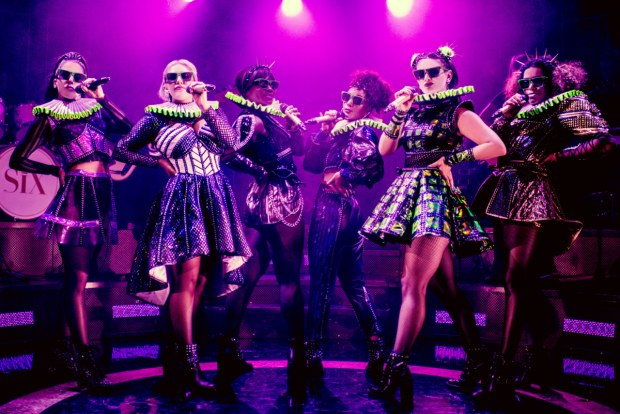 Like a cross between Horrible Histories, Hamilton and a Rihanna pop concert, Six the Musical whirls into London for a second run in under a year, bringing with it a whole lot of scrappy, stick-it-to-the-man attitude. Where last time it landed as a surprise Fringe hit for a few dates over Christmas, for its six week run this year Toby Marlow and Lucy Moss' show is renewed and riding high on a raft of spectacular reviews and a huge word of mouth wave.
Six isn't a full-blown narrative musical, coming as it does in a simple, 75 minute-long fringe format. But it's the big, two fingers up fun of it all that's bound to delight almost anyone who comes to see it. The six of the title are the six wives of Henry VIII (divorced, beheaded, died, divorced, beheaded, survived). Here they are, dressed in Gabriella Slade's sci-fi pop costumes which echo the corsets and ruffs of the Tudor period, and ready to compete for the crown of who had it worst when married to his majesty. Each gets the space of a song to make their case.
There's Anna of Cleves, brought over from Germany to marry the king after the death of Jane Seymour, Anne Boleyn who was the first of Henry's wives to lose her head, Catherine of Aragon his first wife who refused to accept Henry's annulment of their marriage, Katherine Howard who was beheaded because of her unchaste life and Catherine Parr, who outlived the king. If you didn't know much about their lives before you watch, you'll know about them after you leave Six, but not in a worthy, ramming facts down your throat kind of way. It's Marlow and Moss' clever, funny and frank lyrics which manage to squeeze their stories into punchy, upbeat pop-tunes and pepper them with modern allusions and a lot of hashtags (they're #sorrynotsorry).
And the smartness of Six is that it's not trying to be anything other than it is: a cross between a musical and a pop concert, complete with an energising feminist call to arms and an opportunity to offer a new slant on the stories of six women from history. Why is it we're always defined by who our husband was, comes the rallying question by the end. Why indeed?
The cast embody the spirit of modern pop queens perfectly, with Carrie-Anne Ingrouille's choreography and Tim Deiling's lighting making it feel as though you're watching the full blown stadium experience. As with any great girl band, each performer has their own distinct personality and it's a joy watching each flesh these out in their moments under the lights. Millie O'Connell is particularly hilarious with her rolling eyes and arched eyebrows as Anne Boleyn, while Alexia McIntosh's delivery of Marlow and Moss' "Get Down" as Anna of Cleves will likely get the entire house on its feet.
There's mad ensemble numbers too, with "Haus of Holbein" a frenetic and very amusing techno-infused fluorescent-tinged rock-out which makes the famous painter's work akin to a kind of dating profile app. The songs themselves aren't unique – you will have heard pieces of most of them from songs sung by the likes of Adele and Ariana Grande (and from "Greensleeves") – but the innovation comes in their lyrics, which ricochet off the walls of the theatre with a fierce spirit and clarity.
This is a madcap, frenetic, hugely entertaining history remix. Right from the initial strains of its first song "Ex-Wives", you'll be wanting to get to pump your fist in the air and sing with Six.