Review: The Barber of Seville (London Coliseum)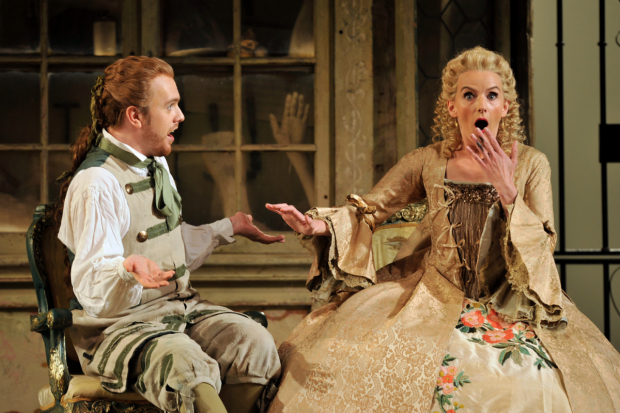 One revival is much like another, right? Wrong, at least in the case of Jonathan Miller's 30-year-old staging of Rossini's The Barber of Seville. When last seen a couple of years back with the same Almaviva and Figaro as here, redirected then as now by Peter Relton, it looked every inch the worn-out warhorse. This time round it gleams like new paint.
It is easy to see why. For a start, English National Opera has made the inspired move of hiring Hilary Griffiths to conduct. He is one of those brilliant Brits who've made their career in Europe (usually of necessity since domestic companies tend to favour artists whose surnames end in -i or -o) and he shapes Rossini's beloved score as though the ink were still wet on the manuscript. With tempo choices, pit-stage balance and dramatic momentum close to ideal, Griffiths and the ENO Orchestra don't just sing, they zing.
In 2015 everything revolved around Andrew Shore's hysterically accomplished Doctor Bartolo, whereas here each member of the ensemble cast is a joy and a welcome friend whenever they reappear. In particular the addition of Sarah Tynan as the classiest Rosina in town is a cause for cheers. Even if you prefer a mezzo in the role (and I'm 50-50 on that point), the English soprano's radiance and comic timing are as immaculate as her mastery of Rossini's cascading runs and her shining top notes.
Alan Opie, who amazingly enough sang the title role when the production was new, has great fun in his role debut as the irascible Bartolo, and so do we. With Alastair Miles as a vinegary Don Basilio and Yvonne Howard an irresistible Berta, this is casting from the top table.
'Unalloyed delight'
Most extraordinary of all is Morgan Pearse, back to the Coliseum as a Figaro transformed. The Australian baritone was, frankly, pretty ordinary in 2015, but… I don't know what they've been feeding him in the interim… but this time he's a star. Figaro here, Figaro there – you can't take your eyes off the fellow, and his account of the introductory "Largo al factotum" brimmed with wit and expert delivery.
The evening's knockout turn, though, came from Eleazar Rodriguez as Count Almaviva, back for another bite of the cherry. The lovable Mexican tenor mixed slapstick with the best of them, sang like a dream and courted Rosina with utter charm.
What a cast.
And what a production, too, for the most part. Unlike the director's other long-runner from the 80s (the mafioso Rigoletto looked distinctly furry round the edges at its latest outing), this period-faithful Barber of Seville still holds up. Act 1 in particular is an unalloyed delight. It's a shame Miller failed to solve the longueurs in Act 2, particularly around the gulling of Bartolo and the orchestral thunderstorm, for there's a thumb-twiddling 20 minutes during which comic inspiration eluded the old magician. Nevertheless, he fully deserved the roar of appreciation that greeted him as he stepped onstage, physically frail but pleased as punch, to take his bow.
The Barber of Seville runs in repertory at the London Coliseum until 30 October.